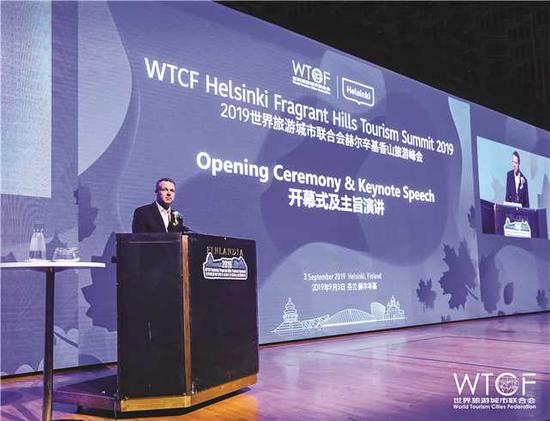 Jan Vapaavuori, mayor of Helsinki, addresses the 8th WTCF Fragrant Hills Tourism Summit. (Photo provided to China Daily)
Tech, transport and quality of life all part of country's appeal
From Nokia to Angry Birds, Finland's technology sector has long been setting global trends. So it is no surprise that they are also at the forefront in terms of being early adopters of emerging technologies — a habit that has transformed the country's tourist industry.
In January 2017, Helsinki Airport became the first in Europe to accept Chinese mobile payment service Alipay. Also that month, Finnair became the world's first airline to use the service in-flight, on the route from Shanghai to Helsinki.
That year, according to the country's national tourism administration, Visit Finland, the number of trips made by Chinese people to the Nordic country rose by an impressive 63 percent, from 265,000 to 432,000, with Chinese tourists spending on average 1,263 euros ($1,405) per person per trip, outspending visitors from all other countries.
Because of such close cooperation in technology, traveling and tourism marketing, despite not having the obvious tourist attractions of destinations such as Paris or Rome, Finland has become one of the most popular traveling destinations and stopovers for Chinese visitors.
According to Jan Vapaavuori, mayor of Helsinki, the country's tourism industry offers a "living like locals" feeling for tourists, and this kind of philosophy is becoming more and more important among visitors, especially those from China.
"We do believe that the Chinese people appreciate that, and they really want to live like locals in Helsinki, to study what the city actually is about," he said.
Through a special mini-program or "sub-application" on WeChat, one of the most popular Chinese messaging mobile applications, visitors can now discover personalized experience, events, restaurants or shopping tips, book transportation tickets ranging from bus to ferries and pay for them, all in one place.
This one-stop service for Chinese visitors to Helsinki is unique in the world. It is powered by an open interface of three databases maintained by Helsinki Marketing, China-based Tencent's WeChat platform and Helsinki-based smart mobility pioneer Whim.
Another key driver for the growth of Chinese visitors in Finland is the airline service. According to Michael Booth, an award-winning English travel writer, the expansion of Finnair into the Asia market, especially China, is "aggressive".
Finnair opened its first direct flight from Helsinki to Beijing in 1988, the first ever commercial flight between Europe and China, and for more than 30 years, Finnair has been continuously expanding its aviation links between the countries.
Today, Finnair has around 40 flights a week from Helsinki to nine major cities in China, including Shanghai, Beijing, Guangzhou, Xi'an, Nanjing, Chongqing, Dalian, Harbin and Shenyang. In most of these cities, Finnair was the first airline to open up a European route.
Alipay is available on all these flights. Its mother company, Alibaba, even claimed that Finland has become the first destination in the world to offer Chinese tourists an "all-Alipay" travel experience.
And it is not just about the payment service. Alibaba's online travel agency platform, Fliggy, has been cooperating with Visit Finland since 2016. "The hometown of the Santa", "the journey for aurora hunters" and "the experience of world-famous glass igloos" are key elements they use to promote their travel products.
"Aside from that, in terms of the appeal of this part of the world, my sense is that the attraction is based on several perceptions — that the air and water is clear, that there is peace and calm, that it is safe, that the Nordics represents quality and integrity, that the food is pure and organic and healthy," said Booth.
His book The Almost Nearly Perfect People, focusing on Nordic culture, won the 2016 British Guild of Travel Writers' Book of the Year, and his next book due in early 2020 is Three Tigers, One Mountain, looking at relations between China, Japan and South Korea, so Booth is perfectly placed to assess the countries' relationship.
From his observation in both Finland and China, Booth said the quality of Nordic life seems to have become a model and an aim for Chinese people enjoying increased prosperity and wealth.
"The Finns score really well on happiness surveys," he explained. "Helsinki is renowned as a city with great life quality, and yet the Nordic societies — particularly Finland — are not rampantly capitalistic like other European destinations, or at least that's how they might be seen by Chinese people."
On Chinese social media platforms, Finland enjoys a reputation as the world's happiest country, with a world-leading education system.