Special: 70th birthday of PRChina
Performers take part in the Belt and Road: By Beihai we are Bound production in Cambridge on Friday. (Photo: China Daily/Bo Leung)
An evening of performances celebrating the culture and attractions of the Chinese port city of Beihai delighted the audience at The Guildhall in Cambridge on Friday.
The event, Belt and Road: By Beihai we are Bound, promoted the ancient city in South China's Guangxi Zhuang autonomous region, which is known for its coastal tourism and historical culture and which has played an important role in China's international trading for more than 2,000 years.
During the event's opening ceremony, an extract from the drama Maritime Silk Road was performed, with songs and dances. The show highlights the exchanges and trade activities between China and the rest of the world, and shows the Maritime Silk Road's contribution to promoting friendship, cooperation, peace, and prosperity between China and other countries.
Visitors also had the chance to view a photo exhibition of Beihai's tourism attractions, its local customs, and the city's infrastructure.
Su Yuanxin, deputy minister of the publicity department of Beihai Municipal People's Government, said in a speech that the Belt and Road Initiative is a way to boost trade and business cooperation and cultural exchanges between China and the United Kingdom.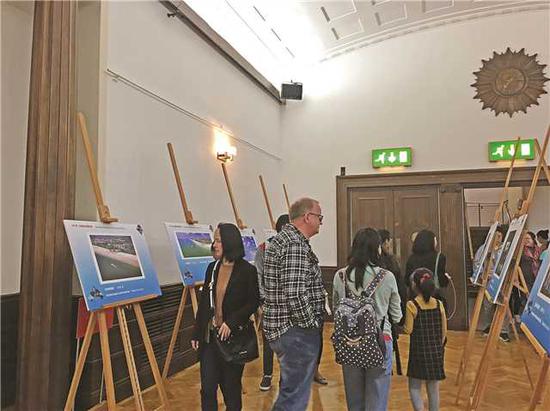 People check out photographs highlighting the attractions of South China's Beihai. (China Daily/Bo Leung)
He said he hopes that, through the framework of the Belt and Road Initiative, China and the UK can enhance their cooperation around tourism, culture, and business.
During an event called International Media Focusing on Beihai, organizers encouraged international media organizations to visit the city to "have a real look".
Robert Dryden, a councilor and former mayor who represents Cherry Hinton on Cambridge City Council, said the event was the start of a friendship between Beihai and Cambridge.
Dryden expressed an interest in being a link between the two cities in order to push forward cooperation and communication on culture and education.
During a visit to Beihai in 2017, China's president called on the Guangxi Zhuang autonomous region to capitalize on its advantages and play a bigger role in the Belt and Road Initiative, saying the region should make full use of its geographical location, coastline, rivers, and border areas.
Tieshan Port in Beihai City has seen a significant rise in its annual cargo-handling capacity in recent years, improving from a capacity of around 1 million tons to more than 20 million tons, according to media reports.