Special: The 7th Military World Games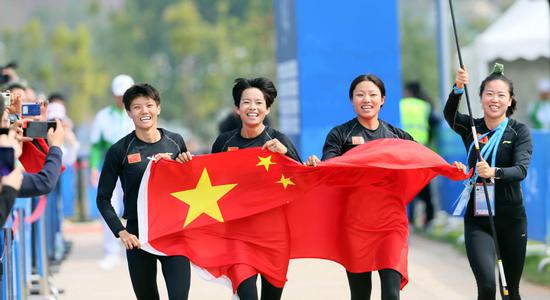 From left, China's Lu Pinpin, Wang Tanglin, Guan Chaonan and Sun Hongyan celebrate after winning the women's obstacle relay at the CISM 7th Military World Games in Wuhan on Oct 24, 2019. (Photo/Xinhua)
China's home favorite, the military pentathlon team, finished with five of six gold medals at the 7th Military World Games, demonstrating how they compete in peacetime for their compatriots.
The women's team grabbed the obstacle run relay gold on Thursday, after they and their male teammates bagged individual and team golds at the 7th Military World Games in Wuhan.
With the pentathlon, home fans got a chance to see a sport that tests similar skills soldiers use in real battle. With each of the five events competed one day, is believed to be the toughest sport at the military games as it tests five of the basic competencies to judge the combat prowess of an individual soldier.
Chinese soldiers kept their compatriots and the world wowed from beginning to the end with one world record after another; their names and the sport gained a new profile in China during the games:
Pan Yucheng, 28, became the world's first man to break two minutes and 10 seconds in the obstacle race, with a time of two minutes and 9.41 seconds. He became a star virtually overnight and was considered "a man like a bullet".