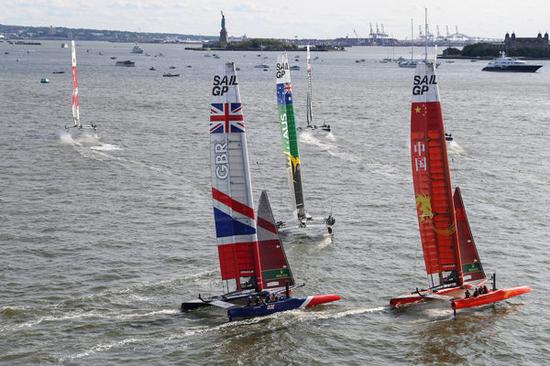 SailGP teams compete on the Hudson River in New York, June 22, 2019. (Courtesy of SailGP Organizer)
The Japan SailGP Team beat Team Australia in an intense final match race on the Hudson River in New York on Saturday, winning its first event in the inaugural SailGP season.
After two more fleet races on Saturday, Team Japan maintained its top spot on Leaderboard New York, with their Australian rivals right on their heels. In the final match race, Team Japan continued its dominance to take victory of the overall event.
Team United States, by scoring its first ever SailGP win on home turf in the fifth fleet race, succeeded in stealing the third place on New York Leaderboard from Team China.
The Great Britain Team, which suffered a capsize that significantly damaged its winsail prior to the first race, finally got to show its performance on the second day, despite the overall event ranking in sixth following Team France.
SailGP's next stop is Cowes, UK, over the weekend of August 10-11, when the home of British sailing will be able to witness the intense racing and awe-inspiring speeds of the F50s.
New York SailGP Results
1st // Japan // 49pts
2nd // Australia // 45pts
3rd // United States // 37pts
4th // China // 33pts
5th // France // 32pts
6th // Great Britain // 27pts
Season 1 Leaderboard (after three events)
1 // Japan // 140 pts
2 // Australia // 139 pts
3 // Great Britain // 106 pts
4 // United States // 105 pts
5 // China // 93 pts
5 // France // 93 pts