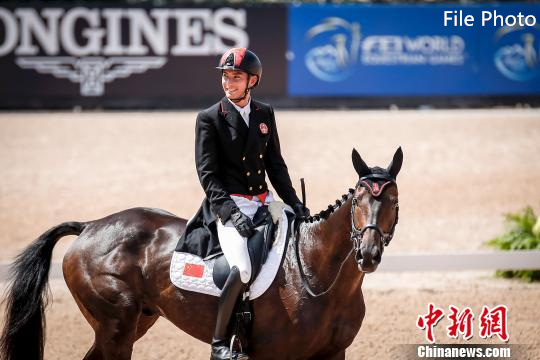 File photo of Alex Hua Tian.
Alex Hua Tian helped China secure their first ever Eventing team ticket to next summer's Tokyo 2020 Olympic Games at a special qualifier held in Saumur, France, on Sunday.
Hua Tian, who competed in the individual event at the 2008 and 2016 Olympics, described it as an "amazing, emotional, dramatic and unbelievable" day for the Chinese team.
He added, "When we discussed the Chinese team at Tokyo, I honestly didn't think that it was possible 18 months ago ... too little too late was my feeling. But with luck coming our way, the opportunity opening up and the strength of character from my fellow team riders over the last year leading up this we have achieved the unthinkable!
"It is a fairytale and I am extremely proud to make history with these guys."
Hua Tian, who made his Olympic debut at the age of 18 at Beijing 2008, rode Don Geniro to second place, behind the 1993 European champion, Frenchman Jean Lou Bigot with Aktion De Belheme.
His teammates Sun Huadong finished eighth, Liang Ruiji 15th and Bianba Ciren 16th.
"I am very proud of Don, who delivered the result that we needed," Hua Tian said. "One pole down in the show jumping kept us in the silver medal place individually."