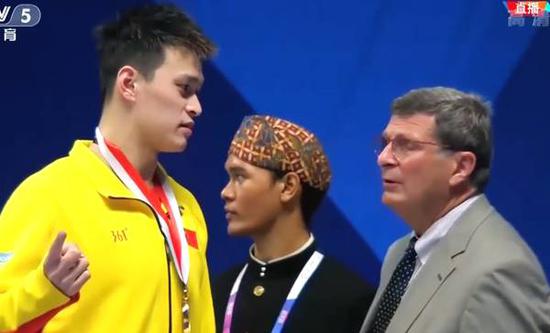 Sun Yang asks the officials to rise the flag again after the men's 200-meter freestyle medal ceremony at GBK Aquatics Center in Jakarta, Indonesia on Aug 19, 2018. (Photo/Video Snapshot)
Special: Asian Games 2018
Three-time Olympic champion Sun Yang claimed victory in the men's 200m freestyle at the 18th Asian Games on Sunday, while a technical malfunction resulted in the flags of the three medalists dropping to the ground during the playing of the Chinese national anthem as Sun stood atop the podium.
Sun Yang wanted to see his flag flying at the Asian Games. He got off the podium, walked to the officials and demanded they do it again.
Officials held the flags up themselves as the anthem played a second time.
Diplomatically, Sun played down the incident when quizzed by reporters, saying he was just relieved to finally win the 200 freestyle title which had eluded him in the two previous editions of the games.
Even though he is the reigning Olympic and world champion, Sun had never won the four-lap race at the Asian Games, finishing runner-up to South Korea's Park Tae-hwan in 2010 and second again to Japan's Kosuke Hagino four years ago.
"For eight years, from Guangzhou 2010 until now, I have been waiting for this gold medal in 200m at the Asian Games. Not many swimmers could have waited for eight years in three Asian Games like me. My dream has finally come true. I am very excited," Sun said, later running to the stand and shaking hands with his parents.
The swim king, who clocked a time of 1 minute 45.43 seconds for the title, led the Chinese charge in the swimming pool against arch-rival Japan, earning a Golden Grand Slam in the 200, 400, 1,500 m free from the Asian Games, World Championships and Olympic Games.