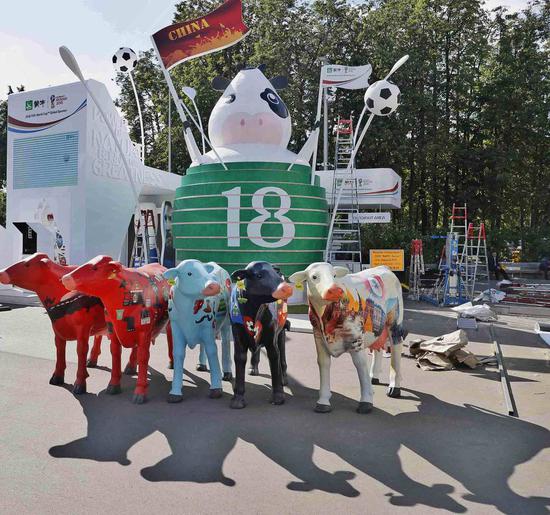 The booth of Mengniu, a dairy producer based in North China's Inner Mongolia autonomous region, stands outside a World Cup venue in Moscow. Mengniu is one of seven Chinese companies sponsoring the tournament. (Photo/China Daily)
Corporate giants spend $835 million, becoming biggest group of sponsors
Argentina crashed out of the World Cup, but the face of Lionel Messi will still be featured on Chinese TV screens during the championships than the face of any other player.
In a prime-time advertisement, he lies face-up on the soccer field, wearing a hard-to-read expression-some say tired and fulfilled, others say sad and confused.
"I was not born to be strong. I have been fighting to be strong," goes the voiceover. Messi is advertising for Mengniu, a dairy producer based in North China's Inner Mongolia autonomous region, and the advertisement is broadcast repeatedly before matches, at halftime and after the games.
Chinese businesses have invested heavily in the World Cup, and television viewers have been surprised to find advertising boards with large-sized Chinese characters surrounding soccer fields. Many of the English-language boards feature Chinese companies, including electronics producers, fashion brands and even an e-bike maker.
"I often have the feeling that I am watching a match of the Guangzhou Evergrande Taobao team back home in the China Super League," said Ma Chao, a Chinese fan who traveled to Moscow for the World Cup.
"All these familiar brands are there on the soccer field. With me in Moscow, there are 60,000 Chinese fans. We are eating the 100,000 crawfish that have traveled the Sino-Europe railway to get here. All that is missing is the Chinese soccer team."
Businesses no doubt comprise the biggest part of the Chinese presence. Seven Chinese companies have signed to be World Cup partners, sponsors and supporters in Moscow. Their sponsorship has reached $835 million, which is more than one-third of the event's total revenue from sponsors.
The amount is $400 million more than the second-biggest spender, the United States, and easily exceeds that of host country Russia, according to market research company Zenith.
Chinese businesses say they want to increase the influence of their brands in foreign markets through the sponsorship, while experts say brand-building is only a small token for success in global expansion.
The list of Chinese sponsors for the World Cup features established brands and lower-profile companies that are equally ambitious.
They include property/entertainment conglomerate Dalian Wanda Group, home appliance maker Hisense, dairy producer Mengniu, smartphone maker Vivo, e-bike maker Yadea Technology Group, technology and entertainment company Luci and menswear brand Diking.
There was only one Chinese sponsor at the World Cup in South Africa eight years ago, when solar panel maker Yingli Group became the first Chinese company to do so.
Franck Guignery, head of sales at FIFA, said the organization is excited about the prospect of engaging Chinese fans and sponsors on a level never seen before as China experiences a surge of interest in soccer.
As China's only top-level sponsor of the 2018 FIFA World Cup, Wanda said it is seizing opportunities brought by the world's most popular sports event to "grow global understanding and awareness of the Wanda brand", adding that it has signed up as a long-term partner of all FIFA events until 2030.
"Wanda has long been devoted to delivering rich experiences to soccer fans in China and all over the world," said Yang Hengming, president of Wanda Sports Group. "One of the primary reasons for us to sign the partnership with FIFA was to inspire the next generation of Chinese soccer players."
Hisense, based in Qingdao, Shandong province, is one company that has seen sales pick up in Russia as the result of World Cup promotions.
"We believe that the World Cup will greatly improve global awareness and economic value for Hisense," said Liu Hongxin, president of the group.
Sponsoring the prestigious event serves not only as a massive marketing opportunity for the brand, but also as a crucial, strategic initiative for the entire enterprise, he said.
Hisense's logo has been shown on LED advertising boards at World Cup stadiums in 11 cities in Russia, including Moscow, Saint Petersburg and Sochi. And the input has paid off.
Hisense's TV sales in Russia have witnessed explosive growth in the past half month, rising by 300 percent year-on-year.
The company was an official partner at UEFA Euro 2016 and a team supplier to Red Bull Racing. It also sponsored the Australian Open tennis championships in 2014 and other top sports events.
Liu said the company has made sports marketing a priority in its long-term strategy.
"Over the years, Hisense has earned a lot of experience and brand growth through sports sponsorships," he said.