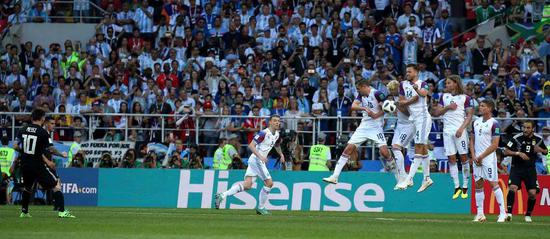 A Hisense advertising sign at the Iceland versus Argentina match. (Photo/China Daily)
The growing presence of Chinese companies at the World Cup can be seen against a backdrop of declining interest in the tournament from traditional Western backers amid the financial aftershocks of FIFA's corruption scandals. Whether such big spending by Chinese companies will translate into better international brand awareness and sales remains to be seen.
But even though the final numbers are not yet in, Chinese companies say sponsoring the World Cup remains a good deal.
Deng Li, brand vice-president of Vivo, said sponsorship of major sports events and leagues has already contributed to Vivo's growth in China and facilitated its global expansion.
"The World Cup, which only happens once every four years, will play an equally important, if not bigger, role," Deng said. The company signed a six-year sponsorship agreement with FIFA last year that will run until 2022 and includes sponsorship of the 2018 and 2022 World Cups.
Vivo's latest flagship smartphone, the NEX, started selling on June 23, and sold out on its website within just four hours, the company said.
James Yan, research director at market research company Counterpoint, said that by sponsoring the World Cup, Chinese companies can boost their branding influence among foreign consumers, which will lay down a sound base for them to negotiate with local retailers. "It makes real business sense," he said.
Dong Min, vice-president of All View Cloud, a Beijing consultancy which specializes in home appliances, said sponsoring such top sports events will definitely increase a brand's global profile and boost overall sales. Dong added that Chinese brands clearly recognize the importance of such a strategy.
He Wenyi, executive director of Peking University's China Institute for Sports Value, said Chinese companies can afford the cost because they have a huge market behind them to support the pace of globalization, and it is a historic moment and a natural choice for Chinese companies to join the sponsors' club.
Liang Zhenpeng, an independent consumer electronics analyst, said appearing at top international sports events reflects Chinese companies' strategy of overseas expansion, but they should do more to achieve globalization.
"Sponsoring the World Cup is just one step of overseas expansion," he said. "What Chinese enterprises should do is to enhance the quality and technology level of their products, as well as improve aftersale services and users' experience to lure global consumers."
Liang added that Chinese enterprises should also expand in the industrial chain and increase investment in research and development of core technologies.