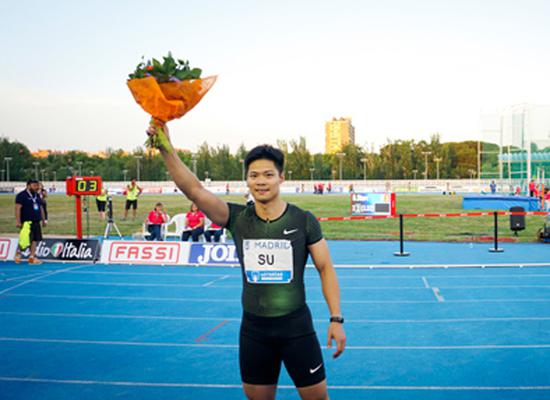 China's top sprinter Su Bingtian ran his career-best time, in the 100m event last week. China's efforts to adopt advanced training methods and send athletes to overseas training and competition have started to bear fruit. (Photo/Xinhua)
Sprinters Su and Xie are spearheading China's next generation for assault on international records
Chinese sprinters raced into history last week, twice rewriting the men's national record in the 100 meters-and launching a new era of athletics glory following the retirement of legendary hurdler Liu Xiang.
On June 19, Xie Zhenye blazed to victory in 9.97s at the Meeting de Montreuil in France, becoming just the third Asian to run the 100 in under 10 seconds.
Three days later, megastar Su Bingtian tied the Asian men's 100m mark of 9.91 seconds with a tail wind of 0.2m/s at the IAAF World Challenge meet in Madrid.
"This day came earlier than I expected," Su said on Weibo after the race. "I want to thank the national team, my wife, my kid and everyone who supports me. You are my motivation."
The 28-year-old Su's previous personal best of 9.99-which was also the national record-was achieved at the 2015 IAAF Diamond League meet in Eugene, Oregon, and equalled at the 2015 World Championships, when he became the first Asian-born athlete to clock under 10 seconds.
After three years of waiting, his record was finally broken by the 24-year-old Xie-fulfilling a vow he made earlier this year to become the next Chinese man to eclipse 10 seconds.
Su proved he's still got plenty left in the tank when he clocked a wind-assisted 9.90 at the third stop of the IAAF Diamond League last month in Eugene, and he also claimed the overall 60m title on the IAAF World Indoor Tour and took silver at the Shanghai Diamond League, the second stop on the prestigious global circuit.
"I still need to learn from Su in running the first half of the race," said Xie.
"I'm carving out my style, finding the way that fits me and giving play to my advantage in step length, while overcoming the disadvantages of response and frequency."
Xie, who cited close friend Su as a role model early in his career, is now ready to take the baton and lead China's charge.
"I'm no longer the kid on the team, so I have to set a good example for the younger athletes," said Xie. "I hope I can take our team further and inspire future talent."
Athletics was long considered a stumbling block for China, perpetuated by the myth that Asians lacked natural ability in track and field.
The curse was broken in 2004 when Liu won the 110m hurdles at the Athens Olympic Games and became world champion at the 2007 Osaka World Championships, which made him a national hero.
Nagging injuries forced Liu to retire in 2015, but a new generation of Chinese track heroes has emerged.
"The stereotype of Asian athletes is that they are not competitive in athletics, but that has been proven wrong over and over again," said Xu Xiangjun, a professor specializing in sprint and hurdles at Capital University of Physical Education and Sports in Beijing.
"The first man that broke that stereotype, Liu Xiang, was an Olympic gold medalist and world champion, and now we have a new generation of talent to continue his legacy and give us hope."
Indeed, starting with the nation's fabled "three musketeers" of sprinting-Su, Xie and retired Zhang Peimeng, who announced his intention to become a skeleton racer early this year-a new chapter in Chinese athletics is being scripted.
Xie, who showed early promise as the 200m gold medalist at the 2010 Youth Olympics, dethroned Su at September's National Games and also captured the men's 200m national record-which only served to rekindle Su's competitive fire.
"I told my wife last year I might call it quits this season, but I found I still have dreams to achieve," said Su.
"Now I tell myself to keep training so hopefully I can compete again at the 2020 Olympics in Tokyo."
So far this season, he has answered any doubts. After tying the Asian record of 9.91 set by Nigeria-born Qatari Femi Ogunode, China's fastest man is ready to face the ultimate challenge of beating Jamaican Usain Bolt's world record of 9.58.
But the question of who will ultimately emerge as China's best remains wide open.
"It's still too early to say who will be more competitive between Su and Xie," Xu told China Daily.
"Xie is younger, but Su is still in his prime and the career of a sprinter could be very long.
"It's very fortunate for Chinese sprint that the there's a competition between the county's best sprinters."