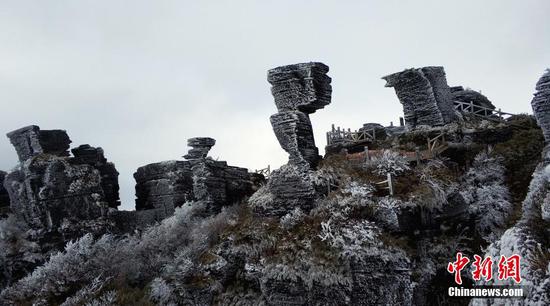 Famous mushroom-shaped stones in Fanjing Mountain,Guizhou Province. (File photo/China News Service)
(ECNS) - The 42nd Session of the World Heritage Committee will discuss 30 applications for recognition on June 29, including five nominations for natural, three nominations for both cultural and natural, and 22 nominations for cultural.
In the meeting from June 24 to July 4 in Manama, Bahrain, China has submitted Fanjing Mountain and the Ancient Quanzhou Citong Relics for recognition.
Fanjing Mountain in China's Guizhou Province is home to an array of wildlife. Currently, 31 endangered plants and 19 threatened animals live in this protected area. Ancient Quanzhou (with its old name as Citong) was known as the starting point of the Maritime Silk Road in China.
France and Belgium are urging UNESCO to designate 139 World War I memorials and cemeteries as World Heritage sites. However, the application efforts have generated debate over attitudes towards war.
The meeting will update the List of World Heritage in Danger, with Lake Turkana National Park in Kenya and Kathmandu Valley in Nepal among sites to be reviewed for their status.
The session will also decide whether to remove the historic center of Shahrisabz in Uzbekistan from the world heritage list due to overdevelopment.
This session will be the first to take place without the participation of the United States and Israel as both announced their withdrawal last year.