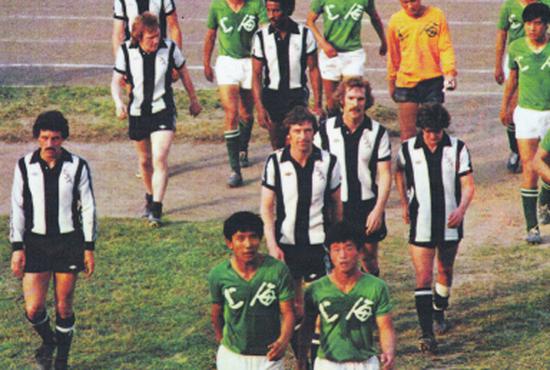 (Photo/China Daily)
The opening game of the tour was a 3-1 win over Beijing, before another game at the National Stadium in front of a crowd of nearly 90,000 that included Deng Xiaoping. In that game, the visitors beat the Chinese national team 2-0.
The next stop was Shanghai, where West Brom beat the local side 2-0, before a 6-0 win over the team from Guangdong province (with Wile among the scorers), and finally a 3-0 victory over a Hong Kong Select XI.
In addition to winning games, West Brom's players won friends.
"They were great ambassadors, they didn't step out of line at all," said Harrison, and the three players who embraced the experience the most were destined to become three of the most important players in West Brom-and indeed English football-history.
When West Brom fielded Laurie Cunningham, Brendon Batson, and Cyrille Regis in the same team in the late 1970s, the side became the first English club to field three black players. The trio is now remembered as much for being social pioneers as for their footballing ability.
"It was very noticeable," said Harrison. "When I asked Cyrille about it years later, he said he and Brendon had both been born in other countries and had to embrace British culture when they arrived. That made them want to learn about other cultures too."
Pettifer also spotted this.
"The three of them were far more curious and interested in the culture than the rest of the team," he said. "It was very evident to me that they wanted to learn about what was then a very unusual and strange place."
As well as their formal cultural ambassadorial roles, the players did their bit to introduce some British culture to China.
"Our hotel in Shanghai had a big lawn and George Wright, the team physio, had brought a cricket bat and stumps, so we had a match between the players and the club directors and press," said Harrison."We were busy playing away, having a good laugh, when we looked up and a large crowd of confused locals had gathered, wondering what on earth we were doing!"
After the final game in Hong Kong, the players returned home with a story to last a lifetime. And a film.
"I'm very proud of it," said Pettifer. "It's a very interesting and important historical document. It was one of the very few films made in those circumstances at that time, and it marks a real change in relations as it was happening."
That period of change was highlighted 30 years later when Harrison returned to China for the 2008 Beijing Olympics.
"It was like seeing a country changed from black and white to Technicolor-everything about the place have been transformed," he said."Doors had been opened, and in a way, with that trip, West Brom played their part. They opened the eyes of people in China to what life was like in the rest of the world, and it certainly opened our eyes to what life was like there."
The tour did not just change perceptions of China-it changed English football.
The following season, with the team spirit strengthened by the experience of the China trip, West Brom enjoyed one of their greatest seasons ever, finishing third in Division One, the top flight of soccer in the days before the founding of the English Premier League.
One memorable game-a stunning 5-3 win over Manchester United-helped put Laurie Cunningham on the radar of Real Madrid, a team he later joined. And three years later, manager Ron Atkinson became the manager of Manchester United, where he won the FA Cup twice, before being replaced by Sir Alex Ferguson.
"We were trailblazers," said Wile. "Maybe, we didn't really appreciate it at the time, but we were given a marvelous opportunity."
And in a final twist no-one could have imagined 40 years ago, the West Brom-China link is now stronger than ever-as the club, along with neighbors Wolves and Aston Villa, is now Chinese-owned. Wile, who after retiring went on to serve as West Brom's managing director, says he likes to think that this is the flowering of the seed planted in 1978.
"I'm not close enough to what goes on in the boardroom to know, but I'd like to think there might be a connection," he said. "Investment in football is coming from every part of the world, and with China coming through so strongly, if they were going to invest in anyone, it just seems right that they should choose West Brom."