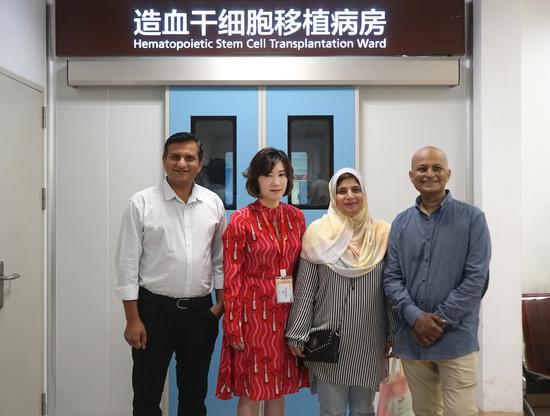 (From left to right) Tahseen Dilbar's elder brother, a representative from China Stem Cell Group, Tahseen Dilbar's wife Jasmin Tahira and Tahseen Dilbar pose for photos before Dilbar leaves hospital after a hematopoietic stem cell transplant at Shanghai General Hospital on Thursday. (Photo provided to chinadaily.com.cn)
The first foreign citizen to have received umbilical cord blood in China as part of a hematopoietic stem cell transplant was discharged from hospital on Thursday.
Tahseen Dilbar, 30, from Pakistan, underwent the transplant on April 25 at Shanghai General Hospital.
He regained his ability to produce healthy blood cells two weeks later as expected, according to his wife, Jasmin Tahira, who accompanied him to Shanghai for the procedure.
After another two weeks of inpatient rehabilitation, he has now returned to join his wife and youngest daughter in their apartment in Shanghai's Songjiang district. The family will remain in China for more than two months, as per his doctor's orders.
Dilbar, a father of three, was diagnosed in 2010 with myelodysplastic syndrome, characterized by the bone marrow's inability to produce enough healthy blood cells.
Over the past eight years, he has relied on regular blood transfusions to survive. By the end of last year, he had developed a high risk of developing acute myeloid leukemia, which usually progresses rapidly and is typically fatal within weeks or months if untreated.
Stem cell transplantation is regarded as the most effective treatment for the syndrome. But Dilbar failed to find a full match among his three brothers and sisters. One elder brother's hematopoietic stem cells showed only a half match.
While Pakistan can perform transplants using completely matched hematopoietic stem cells, it is still not experienced in handling half-matched procedures, Tahira said.
Doctors in Pakistan suggested reaching out for treatment in China, where Wang Chun and his team at Shanghai General Hospital are known as pioneers in the transplant of half-matched hematopoietic stem cells.
The addition of matched umbilical cord blood is an essential part of such transplants, Wang said.
"Half-matched hematopoietic stem cell transplants usually elicit strong rejection from the recipient's body," said Wang, director of the hospital's hematology department. "The addition of matched umbilical cord blood can effectively reduce the chance of rejection."
The transplant took place soon after Dilbar found a match from the Shanghai Cord Blood Bank, which is part of the China Stem Cell Group and is the only licensed cord blood bank in the city.
The cord blood was injected into his body along with half-matched stem cells donated by his elder brother.