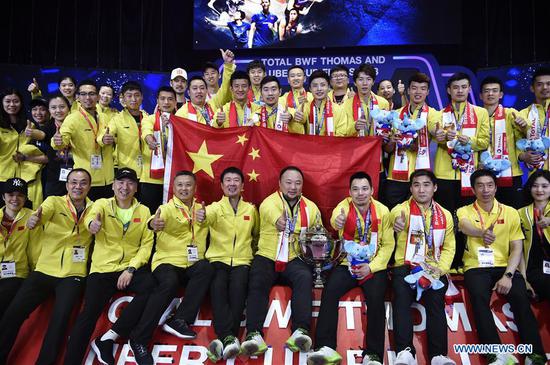 Team China celebrate during the medal presenting ceremony after winning the final against team Japan at the Thomas Cup badminton tournament in Bangkok, Thailand, on May 27, 2018. Team China won the final 3-1 and claimed the title of the event. (Xinhua/Wang Shen)
Chinese men shuttlers beat Japan 3-1 in the final of Thomas Cup 2018 on Sunday, winning back the Thomas Cup for China since 2012.
For the first order, Olympic champion Chen Long lost to Japanese player Kento Momota by 21-9, 21-18.
"Momota is in his best condition since he returned, he played in great confidence, since I lost the first game, I tried my best in the second, I think I played it well," Chen Long said after the match.
Momota said he won by handling shuttle well in front of the net and having some fortune, and also he has improved a lot, both in his speed and muscle in the year.
Then, Chinese double Liu Cheng and Zhang Nan beat their Japanese opponents Takuto Inoue and Yuki Kaneko 21-10, 21-18.
It is obvious that Japanese team rearranged their doubles since Liu Cheng and Zhang Nan lost to Takuto Inoue and Yuki Kaneko in Hong Kong open in 2017.
"We have prepared to fight the original Japanese doubles and found out this morning that we have to fight them and watched some video to prepare," said Liu Cheng.
"We lost them once in Hong Kong, so we were ready for a tough game", Zhang Nan added.
For the third order, Chinese young player Shi Yuqi, who's for the first time attending Thomas Cup, defeated his opponent Kenta Nishimoto by 21-12, 21-17, though Nishimoto did give a strong resistance in the second set.
"I think I played well in all matches I participated in the Thomas Cup this year, I tried my best to win one point for my team and I succeeded," Shi Yuqi said after the match.
Then, Chinese doubles Li Junhui and Liu Yuchen beat Japanese counterparts Keigo Sonoda and Yuta Watanabe 17-21, 21-19,22-20.
Though the Japanese pairs got the match point first, Li Junhui and Liu Yuchen managed to win the final order and help China lift the Thomas Cup by beating Japan 3-1.
This is also the 10th time for China win the champion of Thomas Cup in history.