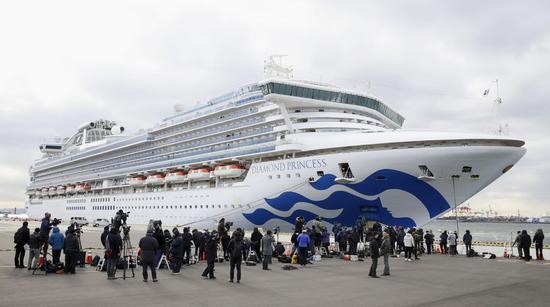 Photo taken on Feb. 6, 2020 shows the "Diamond Princess", a cruise ship which has been kept in quarantine, waiting for supplies at the port of Yokohama in Japan. (Kyodo News via Xinhua)
Special: Battle Against Novel Coronavirus
Test results showed that 66 additional people on a cruise ship quarantined in Yokohama are infected with the novel coronavirus, the Japanese Health Ministry said Monday.
The newest test results brought the number of confirmed cases in Japan to 162, including 136 on the Diamond Princess cruise ship south of Tokyo.
The ship has been kept in quarantine off the port of Yokohama after a passenger on board from Hong Kong was found to be infected with the pneumonia-causing virus.
The 80-year-old passenger flew to Tokyo in mid-January and boarded the cruise ship in the city on Jan. 20.
On board the cruise ship are 2,666 passengers and 1,045 crew members from 56 countries and regions.
The 66 infected people include 45 Japanese, 11 Americans, four Australians, three Filipinos, one Canadian, one British national and one Ukrainian, according to U.S. company Princess Cruise Lines Ltd., which operates the ship.
The Japanese government said it plans more tests of dozens of elderly people while it carries out investigations into any possible issues with hygiene control on the ship.
"We are considering testing, if possible, all those over 80 years old who are in ill health," Japan's Chief Cabinet Secretary Yoshihide Suga said at a press conference on Monday.
The Ministry of Health, Labor and Welfare also said Monday that it is considering testing all the 3,711 people aboard the ship when the two-week isolation period ends on Feb. 19.
However, Suga said later that it would be difficult to test all passengers and crew.
"We need to properly address the unease and concerns of our citizens," said Japan's Health Minister Katsunobu Kato.
According to local media reports, passengers have been confined to their rooms; however, they were allowed to spend some time on deck under staff monitoring.
The cruise company said Monday that it will offer a full refund to all passengers who were unable to disembark in Yokohama due to the epidemic.
The refund will include the cost of the cruise, hotel accommodation prior to and following the cruise, onshore excursions and services used aboard the ship.
Japan is stepping up efforts to contain the spread of the virus as the number of confirmed cases continues to rise.
The government has been urging the public to remain calm and resist a growing number of social media rumors concerning the outbreak.
Japanese Foreign Minister Toshimitsu Motegi said a fifth flight was being arranged to bring home the few remaining Japanese in China's Wuhan and in the rest of Hubei Province.
The charter plane was set to fly this weekend at the earliest and would be the last for the foreseeable future, he added.