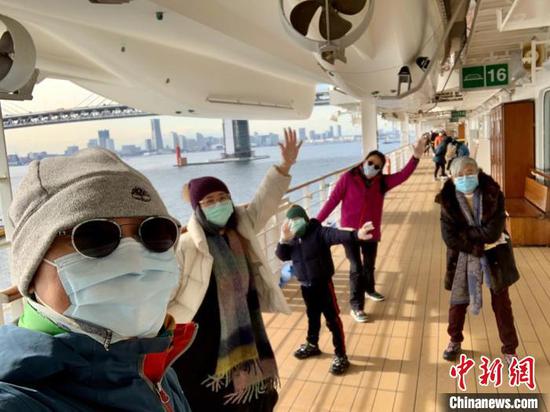 Passengers on Diamond Princess cruise ship wave their hands. The ship has been kept in quarantine off the port of Yokohama after a passenger on board from Hong Kong was found to be infected with the pneumonia-causing virus. (Photo provided to China News Service)
Special: Battle Against Novel Coronavirus
Test results showed that more than 60 additional people on a cruise ship quarantined in Yokohama are infected with the novel coronavirus, the Japanese Health Ministry said Monday.
The newest test results brought the number of confirmed cases to more than 150 in Japan, including about 130 on the Diamond Princess cruise ship south of Tokyo.
The ship has been kept in quarantine off the port of Yokohama after a passenger on board from Hong Kong was found to be infected with the pneumonia-causing virus.
The 80-year-old passenger flew to Tokyo in mid-January and boarded the cruise ship in the city on Jan. 20.
Roughly 3,700 passengers and crew from 56 countries and regions were on board.
According to local media reports, passengers have been confined to their rooms; however, they were allowed to spend some time on deck under staff's monitoring.
Japan is stepping up efforts to contain the spread of the virus as the number of confirmed cases continues to rise.
The government has been urging the public to remain calm and resist a growing number of social media rumors concerning the outbreak.