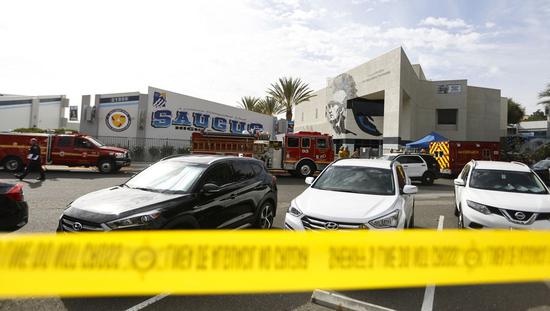 Police cordon off Saugus High School where a shooting took place in Santa Clarita, Southern California, the United States, on Nov. 14, 2019. (Xinhua/Li Ying)
At least two students were killed and three injured following a shooting Thursday morning at Saugus High School in Santa Clarita, Southern California, local authorities said.
The suspect of the shooting was taken into custody at hospital. Victims were also transported to the nearby Henry Mayo Newhall Hospital and a 16-year-old girl and a 14-year-old boy were pronounced dead at the hospital later. The other three victims were all teens, a 14-year-old boy and two girls, ages 14 and 15, respectively.
Police responded to reports of shots fired at about 7:40 a.m. local time at the school, around 40 miles north of Los Angeles. Some students escaped from the campus and others were trying to find cover at the school.
Six students, including the suspect shooter, were found in the quad with gunshot wounds, Los Angeles County Sheriff Alex Villanueva said at a news conference close to noon.
The 16-year-old male suspect, whose birthday is Thursday, is in the hospital in "grave condition." The suspect, who took a semi-automatic pistol from his backpack before the start of classes, shot five people and then shot himself in the head, said officials.
Authorities did not reveal the identity of the suspect but said that detectives were talking with the suspect's girlfriend and his mother.
Worried parents rushed to the area after reports of the shooting, waiting for their children to be released from the police cordon. Some emotional parents and kids reunited with each other outside the campus with tears in their eyes.
Saugus High School and nearby schools in the area were locked down as police were still searching for the shooter. The lockdowns were lifted from all schools after the shooter was captured by police.
California Governor Gavin Newsom issued a statement regarding the shooting at Saugus High School in Santa Clarita. He said he is closely monitoring the incident at Saugus High School in Santa Clarita this morning and his administration was working in close coordination with local law enforcement.
The governor expressed his gratitude to the first responders in Santa Clarita later in a twitter.
"We simply should not have to fear for our kids' lives when we drop them off at school," Newsom tweeted.
"How many more lives will be lost? How many more shootings will we have to endure? We need commonsense gun reform. NOW," noted the governor.
White House spokesman Judd Deere said this morning in a press release that U.S. President Donald Trump was monitoring the reports of the school shooting in California.
Firearms are the second leading cause of death for American children and teens, after car crashes, according to U.S. gun safety group Everytown for Gun Safety, adding that nearly 1,700 children and teens die by gun homicide every year.
There were at least 84 incidents of gunfire on school grounds in the United States in 2019, resulting in 13 deaths, including 3 suicide deaths and 48 injuries, according to figures released by Everytown for Gun Safety to date.