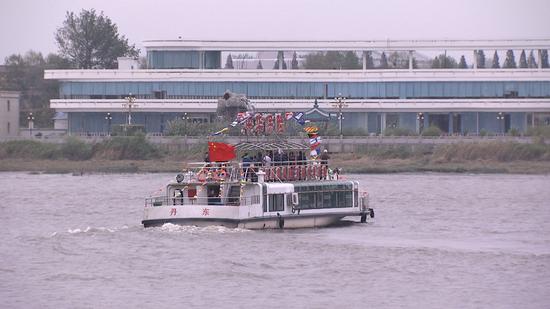 DPRK tourist facilities are only a strip of water away from Dandong City, northeast China's Liaoning Province. /CGTN Photo
Despite the cooling weather in early October, the tourism market is heating up in Dandong City, northeast China's Liaoning Province, which borders the Democratic Republic of Korea (DPRK). During China's week-long National Day holiday, which also marks the 70th anniversary of the establishment of China-DPRK diplomatic relations, a large number of Chinese tourists are flocking to the border town to explore the mystery of their Korean neighbor.
In the early 1950s, hundreds of thousands of young volunteer soldiers crossed the border to aid their DPRK comrades against American invasion during the Korean War, which laid a strong foundation of the 70-year-old friendship. Today, thousands of Chinese people cross the Yalu River everyday - by train or by bus- to sightsee in the neighboring country where people from their parents' generation fought alongside the DPRK soldiers.
Chinese citizens can get a visa for the DPRK in just a few days, and after a journey of a few hours they can enjoy seafood, beautiful scenery and historical spots.
Han Wei Tao, a local travel operator in Dandong, told CGTN that the number of Chinese crossing into the DPRK each day has almost tripled to over a thousand since last April when tensions on the Korean Peninsula began to ease.
While a majority of these tourists are elderly people who visit the DPRK for a nostalgic experience, Han's travel company has designed new tours to cater to an increasing demand. "Many business people with keen eyes are also following in the footsteps of President Xi Jinping to the DPRK for new opportunities, as the region is said to be economically dynamic," he said.
The travel agency manager said most of his customers speak highly of their DPRK visit on their return.
"It was a special experience to take my family to the DPRK on the 70 anniversary," said Li Hui, who returned from the DPRK after a day-long visit, adding that "We can really feel their hospitality, and are deeply touched by their professionalism in performance and respect for history."
"The Friendship Tower in Pyongyang is a must-go for Chinese visitors to lay a flower and pay homage to the martyrs of the Chinese People's Volunteer Army," Han said. "It shows our friendship with the DPRK people to strive for a better life together."
Other top destinations include Panmunjom, a village on the border between the DPRK and the Republic of Korea (ROK), which witnessed the signing of the Korean Armistice Agreement in 1953. More recently, it was the venue for the historic summit between DPRK leader Kim Jong Un and ROK President Moon Jae-in.
The choice hints at Chinese people's common wish for a stable, peaceful Korean Peninsula.