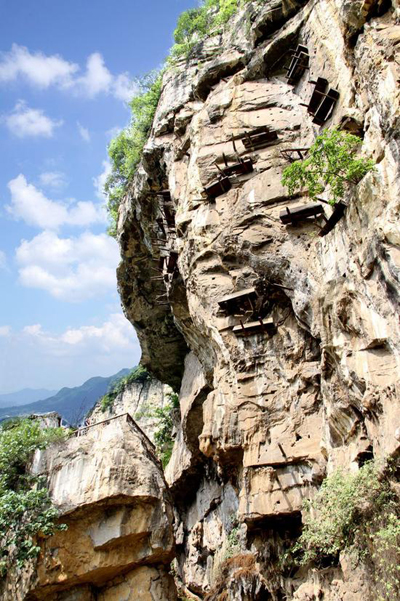 Mysterious coffins on the cliff. (Photo/Xinhua)
Mysterious coffins high up off the ground, a historical and cultural heritage with hundreds of years of history in southwest China's Sichuan Province, remain safe and sound after the recent earthquakes.
Four people were killed, 128 injured and tens of thousands of houses damaged after a 5.4-magnitude earthquake jolted Gongxian County in Sichuan Saturday. Fortunately, the cliff cemeteries left by the Bo ethnic minorities, which disappeared during the Ming Dynasty (1368-1644), are still intact.
"After the earthquake, we sent people to check the hanging coffins and none were damaged, which shows the wisdom of the ancient people," said Fan Yuhong, an official with the county's culture, radio, television and tourism bureau.
The Bo people had lived in the remote mountains of southwest China for more than 2,200 years and used to respect the dead by hanging the coffins high above the ground.
Some believed that the higher up the cliff the coffin was placed, the more respect was paid. The highest coffins are usually the elders of the ethnic group.
Others think that the Bo people had developed a feeling of reverence for the mountains and rivers, so they adopted the peculiar funeral practice to show the dead's attachment to the mountains. Suspending the coffins in mid-air also protects them from moisture and wild animals.
The remnants of the extinct funeral ritual in Gongxian County are among the world's most concentrated, complete and typical of cliff cemeteries.
The hanging coffins are mostly made of wood and each weighs about 500 kg, usually 20 to 60 meters high. Some are even hung more than 100 meters in the air. How such heavy coffins were placed on the cliff remains a mystery.
The cliff also contains more than 200 pieces of pile hole relics and rock paintings. The paintings are rich in content, including the equestrian, archery, dances, and acrobatics of the Bo people, as well as animals, weapons, and geometric patterns.