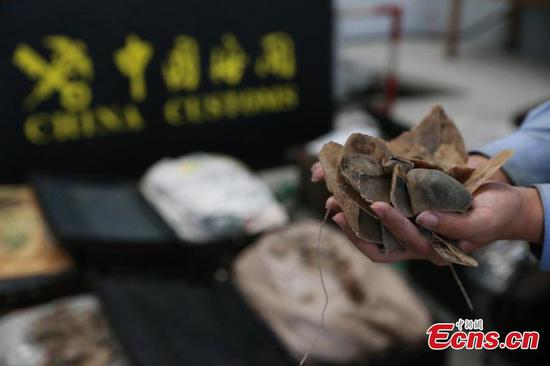 An officer with China Customs shows off pangolin scales smuggled from Africa in Shanghai municipality, May 18, 2015.(Photo: China News Service/Huang Shangshang)
With four record seizures in a span of two months, it's the bloodiest World Pangolin Day in the history of the ant-eating mammal.
Last month, China's Hong Kong Special Administrative Region (SAR) intercepted nearly nine tons of pangolin scales worth 5.4 million U.S. dollars, the largest ever seizure in the city.
In another haul, more than three times bigger than that of Hong Kong, a record 30 tons of pangolins were confiscated in Sabah, Malaysia.
Around two tons of scales were found hidden in a container at the Vietnamese port of Hai Phong.
On February 1, Uganda set a new record for the largest-ever wildlife seizure, with the discovery of 762 pieces of ivory and 4.2 tons of pangolin valued at eight million U.S. dollars.
Since each pangolin can yield 500 grams of scales, such massive seizures are equivalent to illegal poaching of more than 15,000 to 20,000 pangolins.
In 2016, Shanghai customs intercepted four tons of pangolin scales. In the following year, another haul of 14 tons of pangolin scales was intercepted, making it the biggest seizure on the Chinese mainland. Shenzhen customs estimated 20,000 pangolins were slaughtered for the consignment.
Massive poaching has made pangolins the most trafficked mammal on the planet. It's scales are valued in traditional medicine in most parts of Southeast Asia.
Concerned over the scale of the poaching, the International Union for Conservation of Nature (IUCN), declared all eight pangolin species as threatened by extinction.
Evading detection at major transit points
Despite being protected by international wildlife laws, large consignments of the pangolin's scales go undetected at various transit points.
Seizures at Hong Kong SAR and Malaysia – both significant transit points for illegal wildlife products – show a striking resemblance in evading customs detection.
In both cases, pangolin scales were being smuggled along with frozen meat. Smugglers tried to disguise the distinct pangolin scale smell by packaging them so they stay at low temperatures.
In Malaysia, about 1,800 boxes full of frozen pangolins were stuffed inside three refrigerated containers and another 572 in six freezers. Sixty-one live pangolins were shipped in cages and a car trunk holding 361 kg of pangolin scales were also found.
Wildlife experts say it's time to upgrade inspection methods. "Sniffer dogs can improve detection of pangolin scales as they're specially trained to detect the scales' pungent aroma," Peter Knights, CEO of the WildAid, an environmental organization, told CGTN.
"Canines are more cost-effective than X-rays and authorities can quickly deploy them to airports and shipping terminals."
Evidence of 'a well-established trade'
Raids in Malaysia also revealed a system of organized pangolin processing units with sealing and vacuum packing equipment on site that have been running for over a decade.
After the raids, Sabah Police Commissioner Dato' Omar Mammah in a statement said that the initial investigations reveal that the Kota Kinabalu factory had been operational for the last seven years.
"Comprehensive investigations can lead to unmasking the syndicate and networks operating from the state and beyond," said Kanitha Krishnasamy, Southeast Asia director of the TRAFFIC, a wildlife monitoring agency.