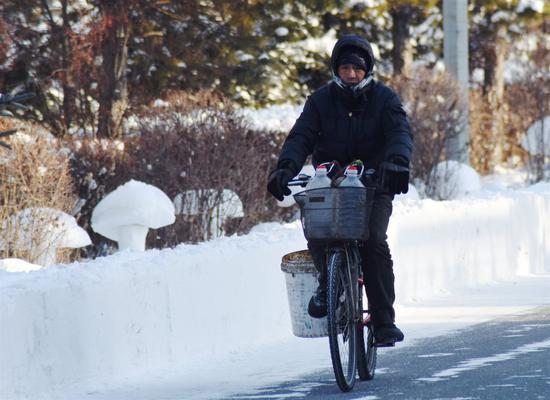 A man braves the cold in Mohe, China's northernmost city, in Heilongjiang province, on Wednesday. The temperature dropped to-42.7 C in the morning. (CHU FUCHAO/FOR CHINA DAILY)
A cold wave sweeping across the country has pushed the mercury down by 6 to 8 C across much of central and eastern China, prompting the National Meteorological Center to issue its second blue alert for a cold snap this week on Wednesday.
This winter's first blue alert for cold - the least severe - was issued on Tuesday evening.
The cold spell is expected to persist through Sunday. As it heads south, the freezing air will reach as far as the middle and lower reaches of the Yangtze River, the center said.
Under its influence, the temperature in Beijing will drop to -10 C or lower this week, the coldest in at least a decade. The coldest early December day in recent years in the city was Dec 5, 2008, when temperatures fell to-10 C.
The central parts of the Inner Mongolia autonomous region and South China's Guangxi Zhuang autonomous region will see temperatures drop more than 10 C, the center said.
The cold snap will also bring rain and snow to southern China, with parts of Hubei, Anhui and Jiangsu provinces forecast to see blizzards this weekend. Sleet and freezing rain are projected to blast high-altitude areas in Hunan, Guizhou and Hubei provinces this week.
Before the freezing air poured into large parts of China, the country's northern areas had already been hit with wind chills and heavy snow.
As many as 5,000 tourists were stranded at Urumqi Diwopu International Airport in northwestern China's Xinjiang Uygur autonomous region on Tuesday after about 100 flights were canceled due to days of heavy snow, China National Radio reported.
China's northernmost city, Mohe in Heilongjiang province, issued a red alert for a cold snap on Monday, its first since records began, before the mercury plunged by 22.1 C to -41.1 C on Tuesday and dipped further to-42.7 C on Wednesday.
A shroud of white mist blanketed the city streets on Wednesday morning as water vapor in the air froze, rendering visibility outside to less than 100 meters on Wednesday morning.
"We have dispatched police to key sections of the roads to guide traffic and prevent accidents caused by frozen ice or snow," said local police officer Wang Zhijia, who had donned his heaviest clothing to brace against the bitter cold. Frigid air triggered a provincial level orange alert - the second most severe - by the Heilongjiang Meteorological Bureau on Tuesday as Harbin, the provincial capital in the south, saw a low of -20 C this week.
However, the deep freeze engulfing North China hasn't damped down the passion of tourists heading north to see the winter spectacle.
Tan Jian from the eastern province of Jiangxi visited Mohe on Wednesday and reveled in throwing a cup of boiling water in subzero air, which instantly froze into an ice-mist spiral.
"It's absolutely beautiful and exhilarating. The scene is unique to this place and I came here to experience the coldest of North China," he said.