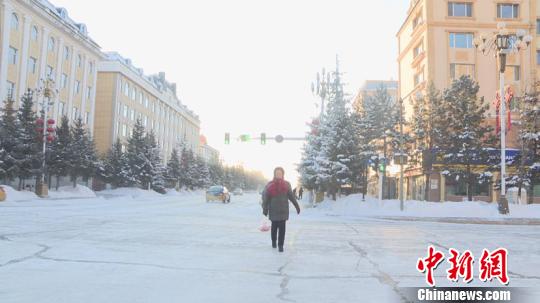 A woman walks on the street in Mohe, Heilongjiang Province. (Photo/China News Service)
The Heilongjiang observatory on Wednesday prolonged an orange alert for spells of extreme cold across the northeastern province, where the temperature in Mohe, China's northernmost city, has dropped to minus 41.1 degrees Celsius.
The cold front hit the province on Monday, prompting the provincial observatory to increase the weather warning from blue alert to orange alert, second only to red in the country's four-tier extreme weather warning ranking.
From Monday 8 p.m. to Tuesday 8 p.m., the temperature plunged by minus 12 to minus 20 degrees Celsius in most parts of the province. Meanwhile, the average temperature of the northern parts of the Great Khingan Mountains plummeted to minus 35 degrees Celsius, causing ice crystals to be visible in the air in Mohe.
In Harbin, the provincial capital, the lowest temperature hit minus 20 degrees Celsius.
The cold spell is likely to dominate the region until Friday, the provincial observatory forecast, adding that it may have a negative impact on local agriculture, transportation and logistics sectors.