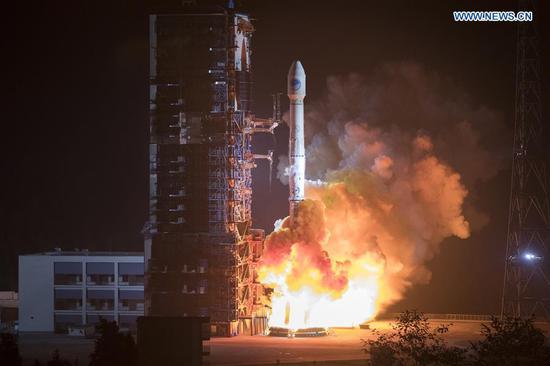 China sends two new satellites of the BeiDou Navigation Satellite System (BDS) into space on a Long March-3B carrier rocket from the Xichang Satellite Launch Center in Sichuan Province at 2:07 a.m. on Nov. 19, 2018. (Xinhua/Ju Zhenhua)
With the help of a pair of new satellites, China's domestically made satellite navigation system is ready to roll out wider coverage to areas involved in the Belt and Road Initiative, the system's main designer said. In addition, its use nationwide and worldwide also has grown vigorously.
The country launched new twin Beidou-3 satellites at 2:07 am on Monday. They were lofted by a Long March-3B carrier rocket at Xichang Satellite Launch Center in southwestern China and are the 46th and 47th satellites of the Beidou navigation system.
"The satellites are also the 18th and 19th of the Beidou-3 series, the third generation of Beidou," said Yang Changfeng, chief designer of the Beidou system.
"The two will work with 17 other Beidou-3 satellites already in orbit, and the basic satellite constellation of Beidou-3 will be completed by year's end," he said. "By then, the network will provide basic navigation service for countries or regions involved in the Belt and Road Initiative."
Yang said it is a vital step for the Beidou network to expand from regional to worldwide coverage.
The Beidou network is one of the four global space-based navigation networks — along with the United States' GPS, Russia's GLONASS and the European Union's Galileo.
Since 2000, when the first Beidou satellite entered orbit, 47 system satellites, including four experimental satellites, have been launched and several have retired. Beidou began providing positioning, navigation, timing and messaging services to civilian users in China and parts of the Asia-Pacific region in December 2012.
Government plans call for the network to have global coverage before the end of 2020.
In addition, a stronger Beidou system with higher accuracy, larger coverage and smarter intelligence will be established before 2035, Yang said.
Beidou-3, which began networking last year, has reached higher positioning accuracy, to within 2.5 to 5 meters, an improvement over Beidou-2, which provides accuracy to within 10 meters.
Wang Ping, chief designer of Beidou-3 satellites, said the series also has other functional improvements for future application.
"Compared with the first two generations, Beidou-3 satellites can offer international search and rescue service based on the standard of the International Satellite System for Search and Rescue," Wang said. "That's a responsibility of China, a major world power."
Liu Xin, deputy director for comprehensive planning of the Ministry of Transport, said "Beidou's search and rescue system, a part of the global satellite rescue system, will offer alerts and positioning service for people in distress worldwide."
In addition, the Beidou system also plays a significant role in domestic traffic, he said.
"There are nearly 6.3 million public and private vehicles, including buses, express delivery cars and trucks, equipped with the Beidou system for navigation," Liu said. "The number is expected to rise by 10 percent year-on-year."
Liu Lin, an official responsible for the Beidou system's application in Shaanxi province, said the province's capital city is utilizing Beidou to help ease traffic congestion.
"We are developing an intelligent urban traffic system in Xi'an that can adjust traffic light timing to alleviate traffic jams by analyzing data provided by Beidou," he said.