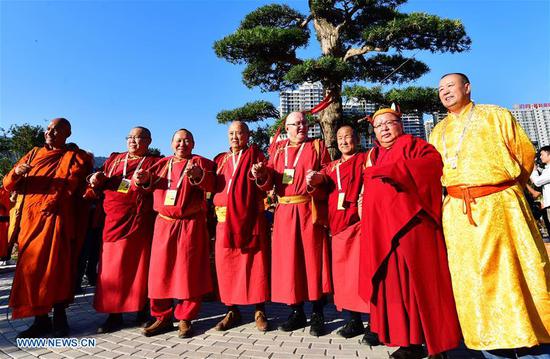 Guests for the fifth World Buddhist Forum pose for group photos during a tree planting activity in Putian, southeast China's Fujian Province, Oct. 28, 2018. A record number of over 1,000 Buddhists, scholars and representatives from 55 countries and regions attended the fifth World Buddhist Forum, which will last until Oct. 30.(Xinhua/Wei Peiquan)
Representatives from the Buddhism world will gather in Putian, Fujian province, for the fifth World Buddhist Forum, which will open on Monday to promote exchanges and discuss the contemporary value of the religion.
The two-day forum, themed "Exchange with mutual learning: Middle way for perfect harmony", is aimed at promoting exchanges and mutual understanding between Buddhism and other religions, as well as modern science and technology, and realizing the mutual understanding between different civilizations, Xiao Hong, deputy secretary of China Religious Culture Communication Association, said on Sunday.
"Buddhist culture with contemporary value will unite the power of Buddhists around the world to do good deeds and make continuous efforts in building a community with a shared future for mankind," Xiao said.
The forum will also emphasize the positive role of religious people in economic and social development, environmental protection, cultural exchanges and the Belt and Road Initiative, Xiao said.
More than 1,000 people from 55 countries and regions, including Buddhists, practitioners, scholars and researchers, will attend the forum, she said.
This year's event will include a main forum and seven subforums, covering topics such as Buddhism and the 21st Century Maritime Silk Road, Buddhism and environmental protection and Buddhism and charity, said Master Shi Zongxing, vice-president of the Buddhist Association of China.
Exhibitions including Buddhist culture along the routes of the BRI, multilingual translation of Chinese Buddhism and Buddhism and art will also be held during the forum to present Buddhist culture in creative and diverse ways, Shi Zongxing said.
"Buddhism has been playing a positive role in carrying forward the traditional culture of China and the BRI to the world, and it also serves as a bridge for exchanges with countries participating in the Belt and Road and will enhance ties with international Buddhists," said Li Jianhui, mayor of Putian.
The forum aims to start the process of building a Buddhist cultural center along the maritime silk road, a Buddhist exchange center for both sides of the Taiwan Straits and a platform for promoting mutual exchanges of Buddhism, which will make great contribution to promoting world peace and sustainable development, Li said.
Jointly proposed by Buddhist communities on the Chinese mainland and in Taiwan, Hong Kong and Macao in 2005, the World Buddhist Forum was established as a platform for Buddhists to communicate and cooperate.