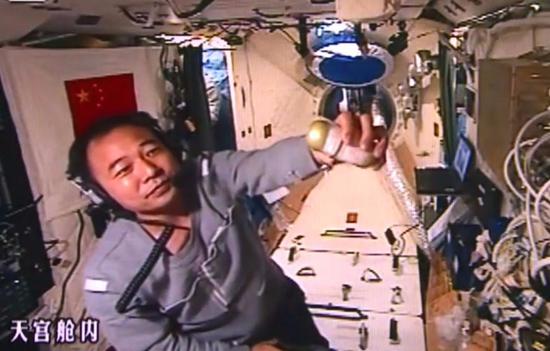 Jing Haipeng conducts an experiment on board Tiangong II on breeding silkworms in space. (Photo/Xinhua)
Space lab fulfills all planned missions within two years 
Early on April 2, Tiangong I fell back to earth after first entering service in September 2011.
Its exterior broke up and incinerated in the morning sky as scientists worldwide witnessed the final stages of China's first space laboratory before its remains plunged into the southern Pacific Ocean.
Now, all eyes are on its successor, Tiangong II, China's sole space lab orbiting Earth. It recently passed its second anniversary in orbit since being sent into space from the Jiuquan Satellite Launch Center, Gansu Province, on Sept. 15, 2016.
Lin Xiqiang, deputy director of the China Manned Space Engineering Office, said Tiangong II would safely end its orbit under manual control after July.
"Tiangong II has fulfilled all its planned missions within its designed two-year life span," Lin said.
It will now focus on conducting additional experiments and testing new space applications that can benefit society, he added.
These benefits include providing valuable geological data for research and disaster relief, as well as enhancing local economies in the Ningxia Hui autonomous region and Yunnan province, home to many companies involved in the country's space sector, he said.
The space laboratory serves as a symbol of national pride and scientific education, where people can cultivate their love for space technology and exploration, Lin added.