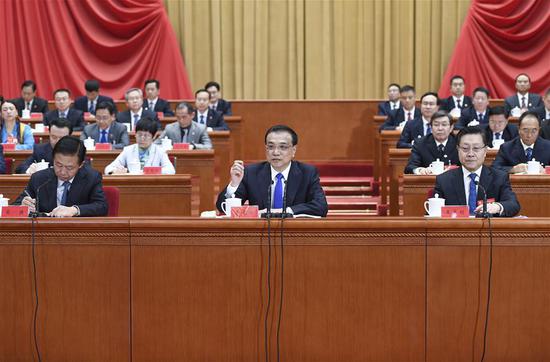 Chinese Premier Li Keqiang (C), also a member of the Standing Committee of the Political Bureau of the Communist Party of China Central Committee, delivers a report on economic situation during the 17th national congress of the All-China Federation of Trade Unions in Beijing, capital of China, Oct. 24, 2018. (Xinhua/Zhang Ling)
Chinese Premier Li Keqiang on Wednesday called for more efforts to overcome headwinds, maintain stable performance of the economy and push for high-quality development.
"China has deepened its reform and opening-up and actively responded to challenges this year, keeping the economy within a reasonable range," Li said at the 17th national congress of the All-China Federation of Trade Unions.
In the first three quarters, the economy continued to grow at a pace leading the world's major economies.
Li cited creation of 11.07 million jobs, growth in power use and freight volume, bigger roles of services and consumption, emerging new technologies and industries, and continued market vitality, with 18,000 firms registered each day.
"Despite complicated circumstances home and abroad, China achieved stable employment, income growth, and inflation, and the economic structure continued to improve," Li said. "We can accomplish the goals of economic and social development for this year and lay the foundation for next year's development."
However, Li acknowledged increasing challenges and risks, saying that many companies were facing difficulties and market confidence had been affected under rising downward pressures.
"We should see that China's development boasts relatively strong resilience and big wiggle room, and in the meantime pay high attention to difficulties and challenges," Li said.
Li promised that China would push for reform and opening-up, and innovation-driven development, rather than resort to massive stimulus.
"Efforts will be made to better the business environment, including measures that cut red tape and reduce taxes to stimulate the market," Li said. "The potential of domestic demand will be further unleashed, and targeted policies will be rolled out to tackle problems that plague the real economy."
He said China will ensure the economy performs in a reasonable range and promote high-quality development.
China has the world's largest human resource pool, which generates huge potential and advantages.
"Improving education has bettered worker's quality and expanded the workforce of skilled worker," Li said, stressing that all hardships could be overcome if workers' incentives and innovations are mobilized.
He said efforts should be made to protect workers' rights and interests in the process of development.
"Maintaining stable employment should be the priority of macro-policy, especially for key group of employees and financially-strapped employees," he said. "Workers' income should be raised. The social safety net should be strengthened. Rights of female employees should be protected. Work safety should be ensured."