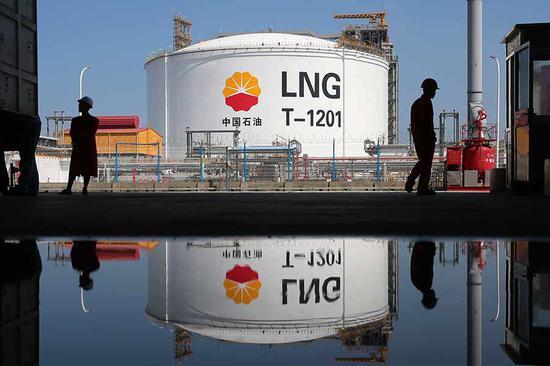 LNG storage facilities in Rudong, Jiangsu province. (Photo by Xu Congjun/for China Daily)
Natural gas demand for residential use will be guaranteed during the upcoming winter heating season despite the tight gas supply, according to the nation's top economic regulator.
More than 120 billion cubic meters of natural gas will be distributed nationwide during the winter heating season, with 40 percent for residential use, Meng Wei, a spokeswoman for the National Development and Reform Commission, said at a news conference in Beijing on Wednesday.
According to Meng, the government, together with China's oil and gas companies, have been pushing forward with the construction of a natural gas production, supply, storage and marketing system.
The government also has a contingency plan in case of emergencies such as extreme weather, in order to guarantee sufficient supplies of gas for residential use during the winter.
The authorities have ensured a natural gas supply of 263.5 billion cubic meters this year, 24.9 billion cubic meters more than last year, with some 100 newly opened gas storage projects expected to reach a storage capacity of 16 billion cubic meters, 3.5 billion cubic meters more than in 2017, she said.
In the first eight months of this year, natural gas consumption in China reached 180 billion cubic meters, an increase of 17 percent year-on-year, according to figures from Bloomberg New Energy Finance.
With increasing competition among domestic suppliers, a more open gas sector and more agreements with international gas suppliers, analysts said that the shortage of gas which occurred last winter is unlikely to be repeated this year.
Li Li, research director at energy consulting company ICIS China, said China will ensure sufficient gas supply this year with more liquefied natural gas imports and improved gas pipeline construction.
Na Min, a senior analyst for oil and gas at Bloomberg New Energy Finance, said China is better equipped and prepared to meet this year's winter demand with increased LNG receiving capacity, new LNG and pipeline import contracts, as well as improved pipeline network interconnection.
"Energy companies, local governments and urban gas distributors have drawn up contingency plans to avoid and deal with extreme circumstances, prioritizing residential users."
Taking a cue from last year's experience, the regulators and energy companies started to prepare for this winter as early as April, when the previous heating season had just ended, she added.