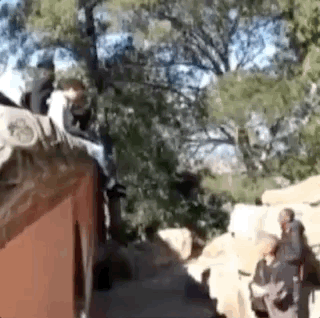 Two foreign tourists are seen scaling the structure./GIF via Weibo
China is famous for its phenomenal collection of classical architecture and inbound visitors do not miss a chance to pose in front of such historical structures while traveling to the Chinese mainland.
However, recently, some foreign tourists went too far during their trip to Beijing's Summer Palace, a UNESCO World Heritage Site.
In a 30-second video clip released by Beijing Television (BTV), two foreign tourists are seen posing for photos on the roof of an ancient temple and refusing to come down even after being warned by a local.
An eyewitness who recorded the moment told the media that she attempted to stop the foreigners from sitting on the historic wall, but they ignored her and stayed there for a few minutes. She also claimed that they caused some tiles to fall to the ground while scaling the structure.
"There are "no climbing" signs set in the area but perhaps foreign visitors did not understand the signs' meaning," a Summer Palace staff said in BTV's interview, adding that patrols would have stopped this kind of behavior immediately if they were on scene.
The incident reportedly took place three weeks ago and has sparked widespread outrage after the video went viral on Chinese social media platforms.
Many neitzens have slammed the staff for making excuses for the foreigners, pointing out that domestic tourists would certainly not be pardoned in a similar case, while also calling for the violators to be blacklisted from visiting the spot ever again.
In response, Summer Palace's management office condemned the two tourists' action as being "too outrageous" on China's Twitter-like platform Weibo on Friday night. The statement issued on its official account said they had repaired the broken wall and reported the case to local police for further investigation.
It further promised to conduct stronger patrols and called for the public to report any such unruly behaviors in a bid to strengthen early warning mechanism.
"More English signs are needed in China's scenic spots," said Weibo user @Xiaoxiaoshuang.
"It shouldn't be a justification for not knowing Chinese, because protecting cultural relics is essentially common sense," wrote another user @Dongguayuan, saying the eyewitness should have called the police.
Located on the outskirts of Beijing, the Summer Palace is the best-preserved example of a Qing Dynasty imperial garden that has survived the ravages of war and chaos.
It was among the first places in China to be recognized as a protected cultural heritage site and was named as a UNESCO World Heritage Site in 1998. That makes it a must-see tourist destination for visitors from China and around the world.