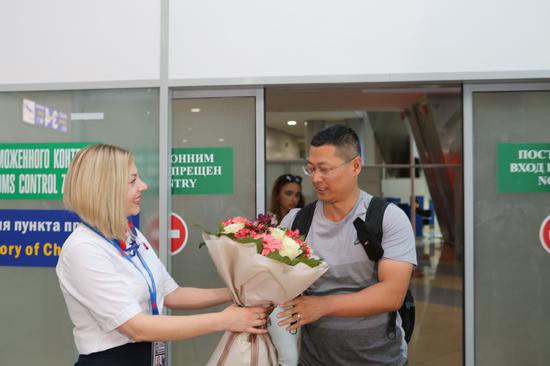 The first Chinese traveler to arrive at Minsk National Airport in Belarus under the new visa-free agreement receives flowers from an airport employee. China and Belarus implemented visa-free policies for their respective citizens on Aug. 10. (Photo/Xinhua)
A European Union initiative to attract more Chinese visitors is making "solid progress" with research showing more tourists are heading to Central and Eastern regions of Europe.
The study by flights data specialist Forward Keys and the European Travel Commission, or ETC, found visitors from China heading to Central or Eastern EU destinations up by 10.3 percent between May and August this year.
Compared with the same period of 2017, the last four months of 2018 bookings are 9.4 percent ahead.
The report is part of the ETC's major strategic political initiative, EU-China Tourism Year, aimed at promoting Europe as a destination to the rapidly growing Chinese tourism market.
The study said the initiative has found success in promoting lesser-known destinations such as Estonia, which saw an increase of 45.3 percent, while Chinese arrivals in Bulgaria went up 43.4 percent.
The most popular destination among southern EU nations is Croatia, with Chinese arrivals up 46.2 percent in the period from May to August, while bookings made between September and December are up 66.4 percent.
In August, the ETC approved funds to Croatian and Slovenian tourism authorities for their joint promotion in China named Experience Croatia, Feel Slovenia, which was designed to strengthen the visibility and reputation of the two countries in the Chinese market.
Overall, the report said that Chinese travelers to Europe were up 4 percent in the first eight months of 2018.
In the period from September to December, Chinese bookings to European Union nations are up 4.7 percent year-on-year.
The driving markets are Hong Kong, Macao and second-tier cities in the Chinese mainland, according to the findings.
In the period from May to August, the growth from Hong Kong and Macao was 5.1 percent, while visits from Chengdu, Hangzhou, Shenzhen and Xiamen were up 13.5 percent.
The ETC's Executive Director Eduardo Santander said: "The growth in Chinese travelers has been solid and the near future, judging by current bookings, will see the EU continuing to increase its share of the valuable long-haul Chinese traveler market."
In contrast, however, the number of visits made to northern EU nations between May and August, was "disappointing", down by 0.6 percent on 2017.