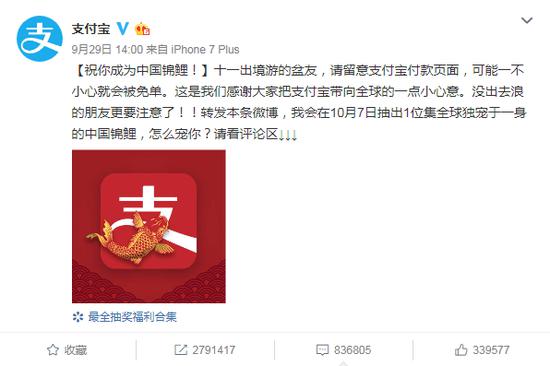 The post announcing the winner was shared nearly three million times in less than nine hours. /Screenshot via Weibo
A Chinese netizen has become an overnight Internet sensation after being announced the sole lucky winner of a marketing jackpot, leaving behind other three million participants. The prize includes multiple giveaways such free meals, trips, and stay across the world.
The result was announced on the Chinese social media platform Weibo via Alipay's official account. The winner, called @Xinxiaodai on Weibo, quickly dominated the headlines, prompting nearly three million searches.
"Should I stop going to work from tomorrow?" The lucky one expressed her excitement in a post after being named as the winner. Her post was shared 60,000 times in less than 12 hours, with the girl gaining thousands of followers within a few hours.
"I still have to go to work tomorrow," Alipay's Weibo handle shared her post.
"It's not a scam. Please reply us through private messages," the company re-assured her by leaving a comment under her post.
Meanwhile, a myriad of brands - from lifestyle to tourism - jumped on to the marketing train extending their congratulations to the lucky winner.

The prize list came with a note saying "The list is a bit long, it may take over three minutes to go through the entire list." /Screenshot from Weibo
The grand prize, the latest marketing stunt offered by Alipay, features an astonishingly long list of items that include accessories, phones, cosmetic products, as well as free deluxe accommodations and trips to numerous countries in Asia, North America, Africa, and Europe.
Countless netizens are flocking to the winner's comment section, leaning in to give their best advice on how she should plan to splurge her prizes.
Others, including the ones who didn't win, reacted with mixed emotions from being upset and rightfully jealous. Some of them desperately tried to find out how they might possibly be related to her.
"Could I potentially be your lost sibling? Maybe your bodyguard if you need one?" Weibo user @Baozaoxiaoliang wrote.