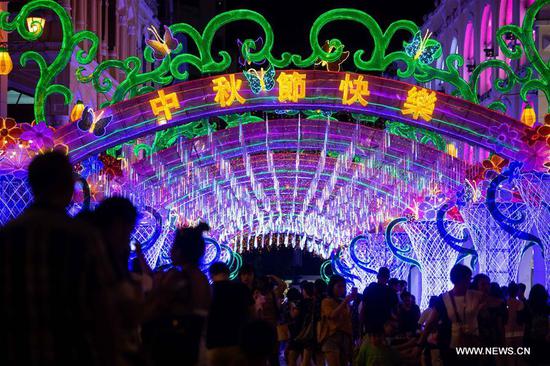 People view the lantern decorations in Macao, south China, Sept. 24, 2018. The Mid-Autumn Festival, which falls on Sept. 24 this year, is a traditional Chinese festival with a custom of family reunion. (Xinhua/Cheong Kam Ka)
Special: Mid-Autumn Festival 2018
A total of 97.9 million tourists were received across China during the three-day Mid-Autumn Festival holiday, which started Saturday, said the Ministry of Culture and Tourism (MCT) Monday.
According to the ministry, the domestic tourism revenue hit 43.5 billion yuan (around 6.34 billion U.S. dollars) during the holiday.
As the week-long National Day holiday is approaching, more tourists resorted to short-distance trips. Trips to the countryside were the most popular.
No major safety accidents were reported nationwide during the holiday as of 5 p.m. Beijing Time on Monday, the MCT said.
The Mid-Autumn Festival usually marks family reunions for Chinese people, who have the tradition of enjoying sights of the full moon and eating mooncakes among others.