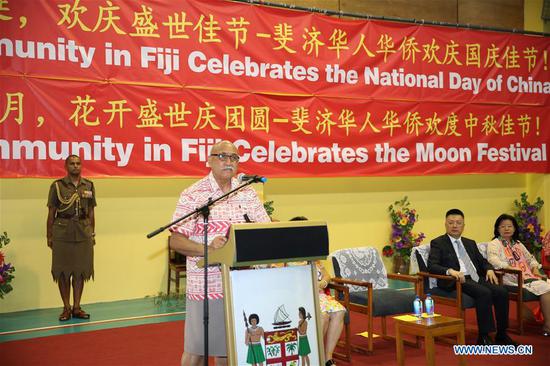 Fijian President Jioji Konrote addresses on the celebration in Suva, Fiji, on Sept. 23, 2018. The Chinese community in Fiji celebrated on Sunday the Mid-Autumn Festival and the 69th anniversary of the founding of People's Republic of China with the participation of Fijian president, members of the local Chinese community and representatives of the Chinese enterprises. (Xinhua/Zhang Yongxing)
Special: Mid-Autumn Festival 2018
The Chinese community in Fiji celebrated on Sunday the Mid-Autumn Festival and the 69th anniversary of the founding of People's Republic of China with the participation of Fijian president, members of the local Chinese community and representatives of the Chinese enterprises.
During a grand opening ceremony with a traditional lion dance, Fijian President Jioji Konrote said he is very happy to join the Chinese community in Fiji in celebrating the Chinese Mid-Autumn Festival and the National Day.
"Thank you for kindly inviting me to join you in celebrating this important Chinese Cultural Holiday and the commemoration of the 69th Anniversary of the establishment of the People's Republic of China," the president said.
"On behalf of the Fijian government and all Fijians residing in Fiji and abroad, I congratulate the government and people of China on this historical and milestone achievement."
Konrote said praised Fiji's Chinese community for their "impressive, important and commendable contribution" to Fiji's global status as a truly democratic, peaceful and progressive developing nation.
"In fact, the collective contribution of the Chinese community to Fiji's overall national development has been remarkably significant and although only consisting of about 4.5 percent of Fiji's total population of about 900,000," he said.
Chinese Ambassador to Fiji Qian Bo said that the Chinese community is a firm supporter of China-Fiji friendship, playing an active role in promoting exchanges and cooperation between the two countries and two peoples.
"I believe with active participation of the Chinese community and joint efforts by the people of different walks of life in both countries, we will be able to yield more fruitful results from our exchanges and cooperation, and achieve greater progress for our bilateral relations," he said.
The ambassador also hoped that both Fiji and China can work together to size the great opportunity brought by the China-proposed Belt and Road Initiative to strengthen mutual trust, promote cooperation, expand exchanges and add more dimensions to the China-Fiji strategic partnership, so as to push China-Fiji relationship to a new level.
Meanwhile, Jenny Seeto, president of the Chinese Association in Fiji, said the actual anniversary date for the Founding of the People's Republic of China is Oct. 1 and it has become customary for the Fijian Chinese community to celebrate National Day of China together with the Mid-Autumn Festival which will fall on Monday.
During the celebrations, performances from both the local Chinese Community and the China Cultural Center, including Chinese traditional dance and shadow (Taiji) boxing, also entertained the participants.