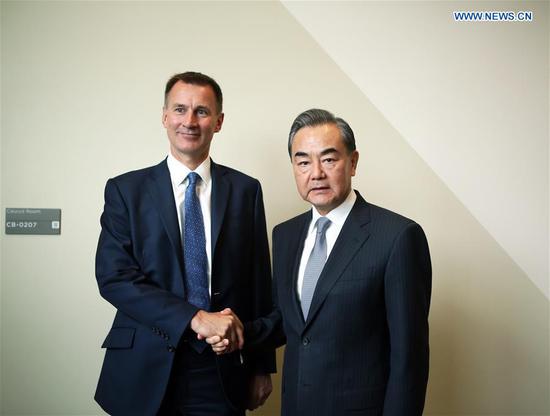 Chinese State Councilor and Foreign Minister Wang Yi (R) shakes hands with British Foreign Secretary Jeremy Hunt during their meeting at the United Nations headquarters in New York, on Sept. 24, 2018. (Xinhua/Qin Lang)
Chinese Foreign Minister Wang Yi on Monday urged Britain to honor its commitment not to take sides regarding the South China Sea issue. 
While meeting with his British counterpart Jeremy Hunt on the margins of the UN General Assembly, Wang said China expects Britain to materialize its promise and show true respect for China's national sovereignty and territorial integrity. 
China expects Britain to do more things that promote bilateral ties, rather than those that undermine mutual trust, so as to secure a healthy and stable development of China-Britain relations, Wang said. 
For his part, Hunt reiterated Britain's stance that it will not take sides on the South China Sea issue, and is willing to properly handle disputes through dialogue with China. 
He added that Britain is willing to build a Golden Era together with China, and it does not believe that China's rise is a threat.