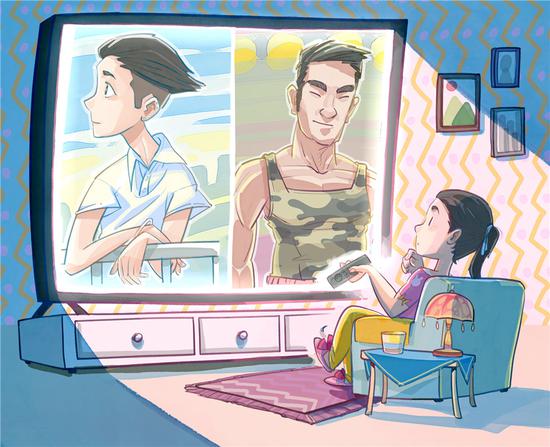 (Cai Meng/China Daily)
New idols cause controversy by redefining masculinity
In the late 1970s, Japanese actor Ken Takakura's toughguy persona in the movie Manhunt won him numerous female fans in China.
However, four decades later, preferences among young Chinese female audiences are shifting to xiaoxianrou, which translates as "small fresh meat", a reference to young male celebrities with fine, delicate features who often appear with elegant makeup.
A new generation of pop idols appears to be redefining masculinity in China, which has triggered huge controversy online. Some believe that this is unhealthy and will have a negative influence on youngsters.
Netizens have posted online comments such as "Powdering one's face is not for men", "They should behave like men" and describe such males as "effeminate".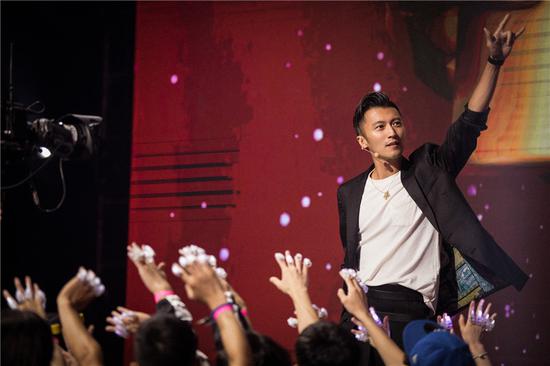 Hong Kong singer-actor Nicholas Tse says he is tired of seeing stars styled on those from South Korea, and men should get their hormones back. (PROVIDED TO CHINA DAILY)
Hong Kong singer-actor Nicholas Tse recently said during a reality show that he is tired of seeing these stars, who are styled on those from South Korea. "It isn't that they're not good, but we should discover ourselves, rather than imitate. Men should get their hormones back," he said during the show.
It was not the first time a celebrity openly voiced such concerns. Director Feng Xiaogang once said in an interview, "Some young actors are feminine and they should be more manly."
Others are more ready to accept change. Liang Yurou, 19, a college sophomore from Fujian province, said: "It's stereotypical to think all male stars should be masculine, like Jackie Chan. As society diversifies, there are more options for fans to choose from."
"It's human instinct to long for good things. I like them not just for their appearance, but also personality. It's my choice-I want to be able to choose the type I like, no matter what others think about it," Liang said.
"Some idols have to wear heavy makeup as they need to portray a perfect image under stage lighting when they're singing and dancing. That's why they are ridiculed for being feminine," she said.
"It's like judging a book by its cover. You have no idea about their true character.
"Why should it only be females who can wear makeup? If men want to make themselves more charming by doing so, it's their personal choice."
Liang believes that her admiration for such male stars has had a positive effect on her as she studied hard for the gaokao, or national college entrance exam. She said she edits photos and videos of one such idol, whom she did not name, and follows his example in donating money to charity.
She does not think such behavior will affect her chances of finding the right boyfriend.
"He doesn't have to be handsome, but should look clean-cut and neat. Personality counts, such as being responsible and honest," she said.
Fan Xiaoqing, an expert on South Korean movies at the Communication University of China, attributes the popularity of "beautiful" male stars among young Chinese women as partly due to the influence of Japanese and South Korean pop culture.
"South Korean idols are talented-they shine onstage with their excellent singing and dancing. They're gentle and they look cute when they smile. There is no doubt that young women are only too glad to idolize them," said Fan, who lived in South Korea for five years.
She said the men that young women mainly encounter from childhood are their fathers, grandfathers or teachers, who are far removed from these South Korean idols. However, Fan added that popular South Korean male movie stars often play muscular roles and have good acting skills, such as Ha Jung-woo, one of his country's highest-grossing stars who attracts long lines at the box office.
She believes there is no cause for concern about the aesthetics of "feminine" male stars, and this isn't a type of pop culture that will not change.
Femininity among men was popular during the Wei, Jin and Southern and Northern dynasties (220-581) in China, especially among aristocrats and scholars.
The book A New Account of Tales of the World, compiled and edited by Liu Yiqing (403-444), records anecdotes of well-known good-looking men at that time, who were thin and beautiful and had white complexions. They applied foundation, shaved, and burned fragrant incense to perfume their clothes.
Jia Baoyu, the protagonist in the classic Chinese novel The Dream of the Red Chamber, compiled in the Qing Dynasty (1644-1911) by Cao Xueqin, is a rebel against masculinity. He not only likes to eat rouge, but also teaches young women how to put on makeup and makes rouge from fragrant flowers for them.