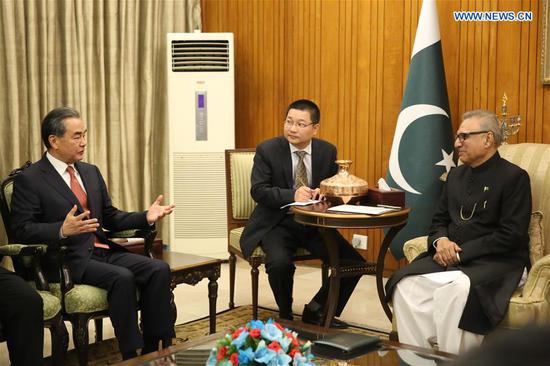 Pakistani President Arif Alvi meets with visiting Chinese State Councilor and Foreign Minister Wang Yi in Islamabad, Pakistan, on Sept. 9, 2018. (Xinhua/Liu Tian)
China and Pakistan pledged on Sunday to jointly promote the construction of the China-Pakistan Economic Corridor (CPEC) and push forward the development of bilateral ties.
The pledges were made as visiting Chinese State Councilor and Foreign Minister Wang Yi met with Pakistani President Arif Alvi and Prime Minister Imran Khan in Islamabad separately.
Alvi, who was sworn in as the Pakistani president Sunday, received Wang as his first foreign guest.
He said friendship with China is Pakistan's national policy and over the past more than five decades Pakistan has always cherished the friendship with China, which is based on mutual benefit and is deeply rooted in the hearts of the two peoples.
The president hailed the China-proposed Belt and Road Initiative as visionary, saying that CPEC, an important part of the Belt and Road construction, has brought and will continue to bring tangible benefits to the Pakistani people.
The new Pakistani government is committed to strengthening the construction of CPEC, and is willing to learn from China in such areas as poverty alleviation, anti-corruption and job creation.
Wang said the bilateral relations and friendship between China and Pakistan remain unchanged despite the changing domestic and international situation, adding that his visit was aimed at getting in touch with the new Pakistani government so as to continue and facilitate the bilateral cooperation in all fields.
During the meeting, Wang also briefed Alvi on Chinese experiences on poverty alleviation and anti-corruption.
He reiterated China's willingness to join hands with Pakistan to constantly enrich and extend the construction of CPEC, and closely coordinate with Pakistan on international and regional issues, so as to safeguard the two countries' core interests and the international fairness and justice.
During his meeting with Wang, also on Sunday, Pakistani Prime Minister Khan said that his government is firmly committed to further promoting the development of Pakistan-China relations.
Noting that CPEC is an iconic project of bilateral economic cooperation and an important part of the Belt and Road Initiative, Khan said Pakistan stands ready to work with China on CPEC.
The Pakistani prime minister expressed his hope to learn from China's experiences in poverty alleviation and anti-corruption, adding that he is looking forward to paying a visit to China in November and attending the first China International Import Expo in Shanghai.
For his part, Wang appreciated Khan's remarks after winning the general elections in July that Pakistan will continue taking the relations with China as the cornerstone of its diplomacy and that Pakistan will firmly facilitate the development of CPEC.
Wang said China is willing to join hands with Pakistan to make the bilateral relations a model of good neighborliness and friendship, a pillar of regional peace and stability and an example of joint construction of the Belt and Road Initiative.
He said CPEC has generated driving forces to the social and economic development of Pakistan, and will be extended to industrial cooperation according to Pakistan's needs, so as to increase employment, expand trade, and improve people's livelihood to make more Pakistanis benefit from CPEC.
During his visit to Pakistan, Wang also held talks with Pakistani Foreign Minister Shah Mahmood Qureshi, army chief General Qamar Javed Bajwa and National Assembly Speaker Asad Qaiser.