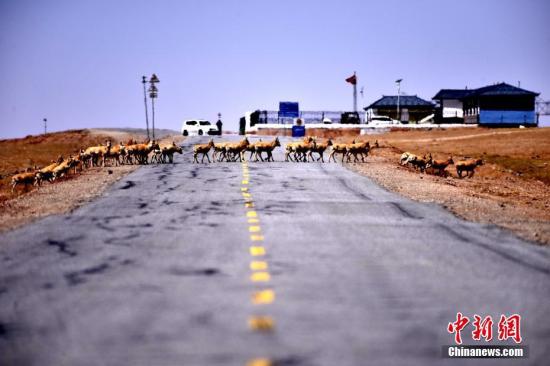 Tibetan antelopes cross a road in Yushu, Northwest China's Qinghai province, May 15, 2018. [Photo/China News Service]
Protection work has helped Tibetan species increase its population in wild
An escort convoy will begin a one-month journey in the next few days to protect pregnant Tibetan antelopes that will travel hundreds of kilometers from Qinghai province to the Tibet autonomous region to give birth.
The team, organized by the Qumalai management office at Three-River-Source National Park in Qinghai province, consists of 40 experienced workers who have been involved in Tibetan antelope protection work for years.
Every summer, 5,000 to 6,000 pregnant Tibetan antelopes travel along fixed routes from the Lechi grassland in Qinghai to Hoh Xil in Tibet to give birth.
The rich variety of food and a relatively safe environment are favorable for breeding and raising baby antelopes. Soon afterward, the females make the return journey with their calves.
Gasang, director of the management office, said that a single trip on the mass migration is typically about 260 km.
"To minimize human influence on the migration, the convoy escort will ride motorcycles and keep a distance from the group," he said.
According to Gasang, Tibetan antelopes are at risk of being attacked by wild animals and human poachers during the migration. Since 2006, local people have organized a volunteer association to protect the rare species.
The convoy escort will follow the migration group back and forth between Qinghai and Tibet. "During the trip, they will also record the antelope's daily activities and the number of newborns to build a database for further studies," said Han Jianwu, deputy director of the management office.
In the future, Han said, the team will be equipped with high-tech facilities to better monitor the migration. Experts will also be invited to train team members who might need to give emergency medical treatment to injured or sick antelopes.
The Tibetan antelope is timid by nature. It can run in bursts up to 80 kilometers per hour. In 2008, it was listed as an endangered species on the Red List of Threatened Species by the International Union for the Conservation of Nature and Natural Resources.
According to a report released by the State Council, the population of wild Tibetan antelopes in China has increased from 60,000 in 2000 to more than 200,000 in 2016, thanks to the protection work.
Last year, the central government announced it was setting aside 2 percent of the country's land to protect giant pandas, Siberian tigers, leopards and Tibetan antelopes in four approved national parks, including Three-River-Source National Park, which covers 215,000 square kilometers at the headwaters of the Yangtze, Yellow and Lancang rivers.