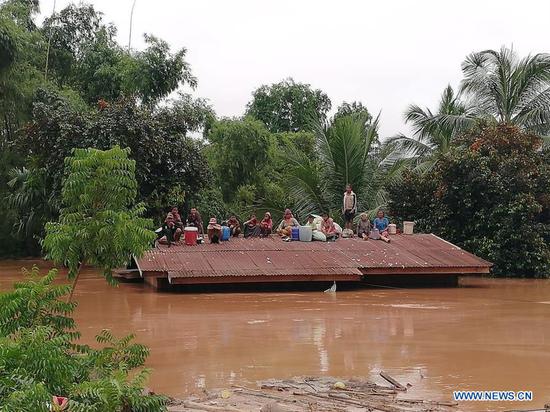 Villagers are seen stranded on rooftop of a house after an under-construction dam collapsed in Attapeu, Laos, on July 24, 2018. (Xinhua/Vilaphon Phommasane)
About 19 people had been confirmed dead and 49 others remained missing after an under-construction dam collapsed in southern Laos, local media quoted unofficial reports from Attapeu Administration office as saying on Wednesday.
The collapse of the Xepian-Xe Nam Noy hydropower dam triggered flash flood in seven villages of Sanamxay district, in Lao's southern Attapeu Province.
Some 6,000 people of 1,300 families in the villages were affected by the flooding, Sanamxay district Governor Bounhom Phommasane told the Vientiane Times.
He said about 2,851 people had been rescued till Wednesday morning in the district.
"A second step for us will to recover and identify the deceased, but for now we hurry to find those who are still alive in the area," he said.
Meanwhile, the Lao government website reported that at least seven bodies had been recovered and 20 villagers missing.
The seven bodies were recovered from the village of Mai and 20 missing from the village of Saydounkeng. Rescue personnel were still collecting the number of casualties from other villages.
Video clips and photos on social media showed flood-water levels going up to the ceiling, forcing villagers and animals to seek shelter on rooftops.
Initial reports said several were killed and hundreds missing following the accident in the landlocked country.