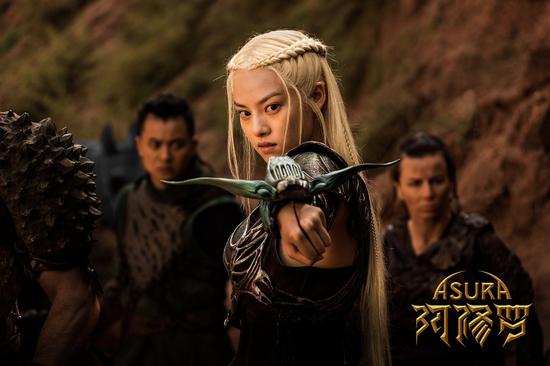 A poster of the film "Asura." /Photo via Douban.com
Fantasy film "Asura," touted as China's most expensive movie production with a 750-million-yuan (US$110 million) budget, was pulled from cinemas on Sunday, only three days after its debut.
According to the film's official Weibo account, the decision was made by all the investors but no reason was given. The producers, Zhenjian Film Studio and Ningxia Film Group, apologized to its partners and audiences.
The producers subsequently told Sina.com that future arrangements regarding Asura had not been finalized. They added that the film was pulled for reasons that were "beyond itself," indicating that "unfair market competition" should be blamed.
Asura, based on Buddhist mythology, is said to be similar to "Game of Thrones," and was originally expected to be the first of a fantasy trilogy. The cast consists of some of China's most renowned actors, including heartthrob Wu Lei, four-time Kong Kong Film Award-winner Leung Ka-fai and award-winning actress Carina Lau.
Was Asura's rating malicious?
However, the film only earned 46 million yuan (750,000 US dollars) over the opening weekend, while "Dying to Survive," which debuted one week earlier, exceeded 1.3 billion yuan (19 million US dollars) in the first week. Veteran director Jiang Wen's "Hidden Man," despite being panned by some critics, totaled 312 million yuan (46.71 million US dollars) in its first three days.
The producers of Asura seem to indicate that the film was deliberately underestimated on rating websites, including Maoyan, where it was given a 4.9 out of 10 points and Douban.com, which bears resemblance to Rotten Tomato, where it was scored even lower at 3.1 out of 10 points.
The other two films of the same period "Dying to Survive" and "Hidden Man" were respectively scored 9.7 and 7.4 on Maoyan, and 8.9 and 7.2 on Douban.com.
Interestingly, Asura scored 8.4 on Tao Piao Piao, owned by Alibaba, which is also one of the investors in the film, whose official Sina account called the scoring system "the shame of the industry."
After its short period of screening, none of the comments on the first page of Douban.com give more than two stars to the film.
"The film has missed its era," said Douban user "Commander of All Regiments." "If it was released three years ago before the Chinese audience formed their own aesthetic standards, it could cheat a good share of box office out of them."
"It sucks in a mediocre way," said another Douban user "Film Detoxifying Room."
It was criticized by the independent film critics on social media Sina Weibo as well.
"I could see the producers must have spent a fortune on the special effects of the film, but all the efforts only boast 'I am rich'," said film critic @Kingoffilms. "I only recommend the film to Wu Lei's fans, to watch it as his photo album."
Chinese writer and critic Ma Boyong called the film "a well-designed bad film" on his Weibo account. "From the costume to the settings, the film has combined the ugly sides of different styles of designing, including the western, Chinese, Mid-Asian, Indian and European styles," said Ma. "The aestheticism was left far behind by the producers' efforts."
Many Weibo goers also complained that the heroine's dressing style looks too similar to Emilia Clarke's role, Daenerys Targaryen, from the "Game of Thrones."
"It was an occupational injury for me to come with you to watch the film," Ma said, citing his designer friend to conclude his comment.
Has Chinese audience tastes changed?
"Asura" is not the first film which was pulled from cinemas this month, though. Another fantasy film "Legend of Ravaging Dynasties 2" also announced a sudden alteration in its debut date, citing "production reasons." It was originally set to hit the cinemas on July 6, one day later than "Dying to Survive."
The first of the series, released in 2016, scored only 3.8 on Douban.com, earning only 380 million yuan (56.9 million US dollars) at the box office. The budget of the film was 200 million yuan (30 million US dollars).
It seems that Chinese fantasy films, contrary to their boasted cutting-edge effects and post-effects animation, have been through a glacial period. Realistic films, however, have performed unexpectedly well.
The box office of "Dying to Survive," based on the true story of a cancer drug buyer, has exceeded 2.5 billion yuan (370 million US dollars) as of Tuesday.
Many insiders blame poor quality for the failure of the films.
"If the story itself is not good enough, it is hard to attract the Chinese audience into the cinemas, even with great spending on the special effects and big budget," Luo Tianwen, box office analyst, was quoting as saying by Beijing News.
"Several years ago, the audience still had a curiosity about fantasy films, but now, without good quality, most of the audience won't buy it," said Tang Le, manager of the Huayi Brothers Media Corporation.
Chinese blockbusters in recent years have one thing in common – they have earned not only big box office bucks but also audience compliments. It seems the era of barbaric growth has already ended, and it requires at least a good story to make a successful film.