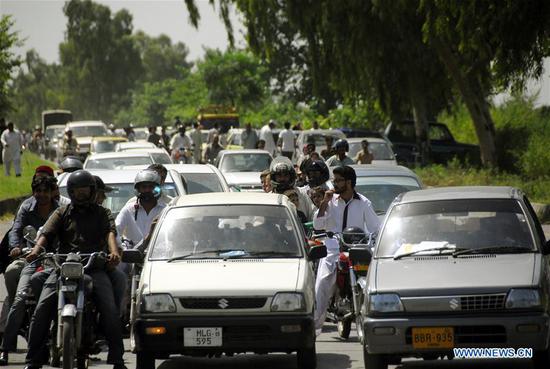 Vehicles and local residents are seen on road on World Population Day in Islamabad, capital of Pakistan on July 11, 2018. The World Population Day is observed on July 11 every year to raise awareness of global population issues.(Xinhua/Saadia Seher)
The world's population keeps growing and it doesn't look likely to stabilize anytime soon.
From 5.3 billion people in 1990, the number of people living on this planet has now ballooned to about 7.46 billion, according to data from the United Nations (UN) and International Monetary Fund.
Read more: World Population in 2018 - Facts and numbers
As we mark World Population Day on July 11, what has brought on this growth and what challenges does it present for the future?
Growth spurt
In 1950, the world's population stood at about 2.5 billion people. By 2050, the figure will have almost quadrupled to 9.8 billion, according to UN predictions.
Improvements in healthcare have raised life expectancy and cut down on infant mortality and childbirth deaths. Automation and labor and safety regulations have reined in risky types of manual labor, while science and technology have helped guarantee food supplies.
Huge numbers of people have seen their standard of living go up over the past few decades.
At the same time, persistent poverty in certain regions has meant people there continue to have many children to help support their family. According to UN data, the population of Africa alone will double by 2050, far faster than the global average. 
Too many people?
As a result, experts have been warning of impending overpopulation and other related problems.
Food shortage
More people means more food will be needed to feed them.
By 2050, global demand for agricultural products will have gone up by 50 percent, according to the UN's Food and Agricultural Organization (FAO). Given Earth's finite amount of natural resources, "mankind's future ability to feed itself is in jeopardy," the FAO warned in a 2017 report.
Water scarcity
Along with more food, a bigger population will also need more water and already, "groundwater sources are being rapidly depleted," according to the FAO. If nothing is done, such shortages will only get worse.
Environmental impact
As mankind continues to encroach on the environment, forests are being cut down – partly to make room for more farmland, to feed more people – and some experts warn that about half of all wildlife species could soon face extinction.
A bigger population is also likely to leave a bigger carbon footprint, accelerating things like climate change, experts say.
Conflict
Overpopulation coupled with limited resources could eventually lead to conflict and war as competing groups fight over water, food or living space.
Population shifts
War, drought caused by over-farming, and a number of other causes may lead to massive migration, putting further strains on certain regions and causing new conflicts.
Far from an isolated issue, a growing world population will have a direct impact on the environment around it.
"Issues like pollution, climate change and water shortages all seem to take precedence, but overpopulation is one of the main contributors to many other environmental issues," the Renewable Resources Coalition, a specialist online publication, has warned. 
Silver lining
It's not all bad news, however. Although the numbers appear monstrous, the rate of global population growth is actually due to slow over the next few decades.
The number of people worldwide is expected to grow by 1.09 percent from 2015 to 2020, but only by 0.56 percent from 2045 to 2050, according to UN forecasts.
Put another way, the world is expected to add 1.2 billion people to its total population in 2030-2050, but it will then take another 50 years to do the same again.
Fertility rates have also been falling worldwide, according to the UN World Population Prospects.
International organizations, government and civil society actors have now recognized the problem and are proposing solutions: from making better use of existing agricultural resources instead of expanding them, to eradicating poverty, increasing access to education and advocating family planning, all of which are seen as potential measures to stem the current population boom.