July 11 is World Population Day. For the occasion, here are some of the latest facts and figures.
Some 7.46 billion people live on the planet and it is probably no surprise that the large majority are in Asia.
With China and India topping global population rankings for years, a whopping 57 percent of the world's population – 4.26 billion people – lives in the Asia-Pacific region, according to the latest figures from the International Monetary Fund.
The second largest region in terms of population is Africa with 1.23 billion people, followed by Europe with 740 million people.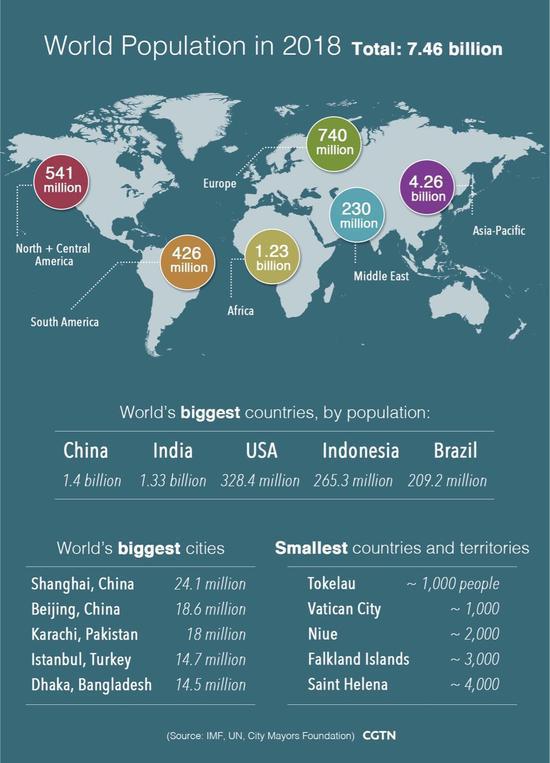 China continues to lead the pack with 1.4 billion people, but India is hot on its heels with 1.33 billion. The third country in the list – the USA – trails far behind with just about 328 million people, followed by Indonesia, Brazil, Pakistan, Nigeria, Bangladesh and Russia.
At the other end of the scale, the smallest countries or territories, according to the UN's World Population Prospects – the South Pacific island of Tokelau and Vatican City – have just about 1,000 inhabitants each.
Some cities have a population equivalent to a small state. That is the case of Shanghai – the world's largest city in terms of residents, not including its metropolitan area – according to the City Mayors Foundation, a think tank.
With 24.2 million people, the city is just barely smaller than the nation of Cameroon.
Its Chinese rival Beijing, with 18.6 million people, has a population the size of Chile, while third-ranked Karachi in Pakistan is bigger than Zambia with 18 million people.
Age and gender
Yet inequality remains. A total of 6.39 billion people – or 86 percent of the world's population – live in emerging markets and developing economies, while only about 1.07 billion live in so-called advanced economies.
Gender-wise, women are outnumbered by men, making up just 49.6 percent of the global population, according to World Bank figures.
Two thirds of people are aged between 15 and 64, but the breakdown per region shows significant discrepancies, illustrating just how fast advanced economies are ageing compared to their up-and-coming counterparts.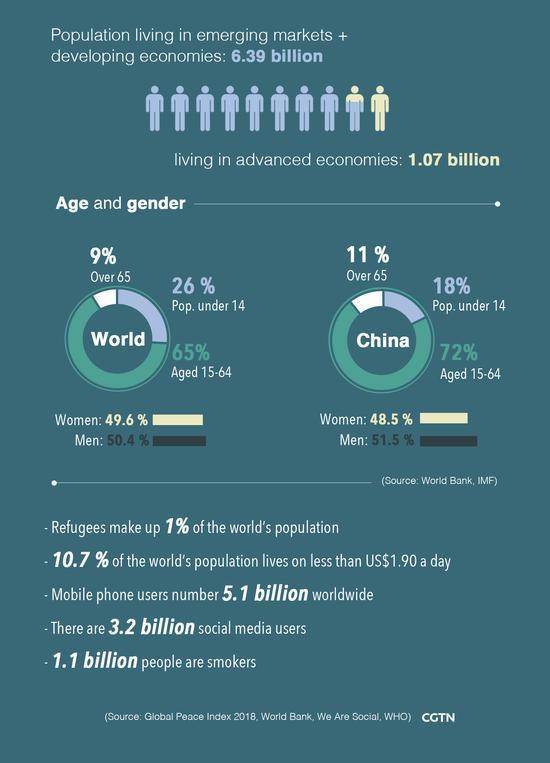 In the European Union, 20 percent of the population is aged over 65, while in North America the figure stands at 16 percent. This compares to just three percent in sub-Saharan Africa and five percent in the Middle East and North Africa.
China, the world's second biggest economy but not yet included in lists of advanced economies, stands somewhere between the latter and emerging markets.
The gender imbalance is slightly wider than the global average, with women making up 48.5 percent of the population, but the country is far younger than its Western counterparts, with 90 percent of people aged under 65.
Refugees and mobile-phone users
Beyond age and gender statistics, the world's population is also made up of individuals who face conflict, struggle with health issues and text their friends on a daily basis.
One percent of people on this planet are refugees, more than ever before, the 2018 Global Peace Index reported last month.
In 2016, 1.9 billion adults were overweight and 650 million were obese, according to the latest figures from the World Health Organization.
Meanwhile, the number of mobile phone users has shot up to 5.1 billion worldwide, while 3.2 billion were active on social media, according to social marketing firm We Are Social.
All of whom will hopefully be reading this story…