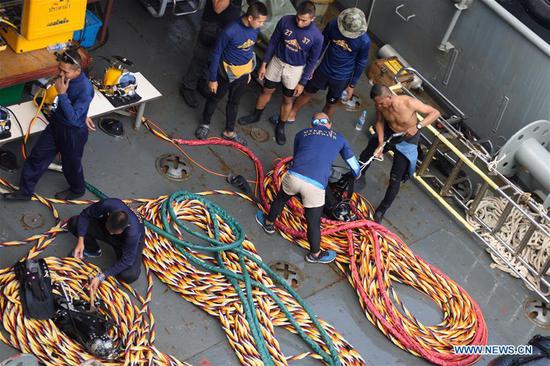 Members of Thai rescue team prepare to search for missing passengers from the capsized boat in the accident area in Phuket, Thailand, July 8, 2018. (Xinhua/Qin Qing)
Special: Thai Boat Tragedy Rescue Operation
Thai and Chinese rescuers have found one more missing body and divers on Wednesday will attempt to salvage one body trapped underwater by a sunken tourist boat off the coast of Thai island of Phuket.
Phuket Provincial Governor Norraphat Plodthong told a press conference at the command center for the search and rescue mission on Wednesday that so far 45 bodies in the capsizal accident had been retrieved among which five had been cremated and two bodies had been transported back to China on the wills of their families.
Two tourist boats, Phoenix and Serenita, were overturned in rough seas on July 5. All the passengers on board the Serenita had been saved and all the victims and missing ones were from the Phoenix.
As of Wednesday noon, the accident has caused 46 deaths and there is one passenger still missing, according to the governor.