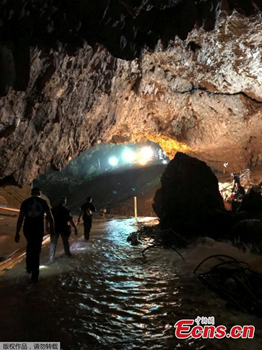 Eight members of the soccer team trapped in a flooded cave in northern Thailand have been saved as rescue efforts continued for a second day. Four boys were extracted on Monday, and the other four on Sunday. (Photo/Agencies)
The first eight boys rescued are now at a hospital, and they are in good conditions physically and mentally, Thai health officials said on Tuesday.
Jesada Chokdumrongsuk, deputy director-general of the Public Health Ministry, said the first four boys rescued, aged 12 to 16, are now able to eat normal food. Two of them possibly have a lung infection but all eight are generally "healthy and smiling," he said.
Families of the first four boys were being kept at a distance because of fears of infection and the boys were initially only allowed to eat a rice-based porridge, authorities said.
He said one of the other four boys sent to the hospital on Monday has irregular heart beats, but every one is in high spirits and happy to get out.
The boys will miss the FIFA World cup as it could be at least seven days before they can be released from hospital.
FIFA president Gianni Infantino has invited the Thai boys' football team trapped in a cave to the World Cup final, as messages of support poured in from top players.
The 12 boys and their coach went missing in a cave in northern Thailand since June 23. Divers tried to train them with basic diving skills as a part of mission to extract them from the flooded cave after they were found on July 2.
The rest four boys and their coach that are still trapped in the cave will be pulled out in a final mission that has resumed on Tuesday.