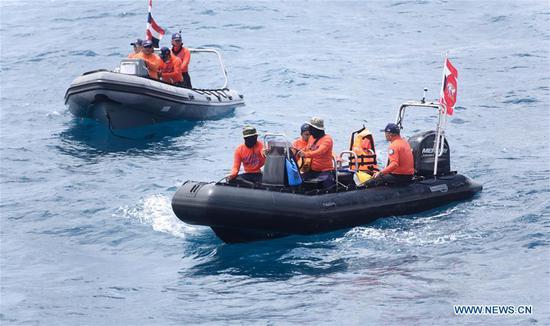 Members of Thai rescue team search for missing passengers from the capsized boat in the accident area in Phuket, Thailand, July 8, 2018. (Xinhua/Qin Qing)
Special: Thai Boat Tragedy Rescue Operation
A local official said on Tuesday that search and rescue teams had found three more passenger bodies who were very likely to be the victims killed in a tourist boat capsizal accident off the coast of Thai island of Phuket last Thursday.
Phuket Provincial Governor Norraphat Plodthong told a press conference at the command center for the search and rescue mission that so far Thai and Chinese officials have confirmed five passengers safe, who were previously missing after the accident, and three of them have gone back to China.
Vice Admiral Somnuk Preampramot, commander of the Royal Thai Navy's Third Area Command, said that two bodies were found with the help of local fishermen on Maithon island Monday, and one body was reported by residents living on Phi Phi Island Tuesday morning.
The three new bodies have been transported to Vachira Phuket Hospital, and authorities are identifying their nationalities and other information. If the newly found three bodies are confirmed to be passengers of the boat "Phoenix", so far the accident has left 45 dead and there are still two passengers missing, according to the governor.
Vachira Phuket Hospital has so far kept a total of 44 bodies and the other body was still trapped in the wreckage of the sunken Phoenix. According to health officials with local government, 37 bodies have been identified and 33 bodies have been recognized by their families.
Health authority has issued 32 death certificates and 26 bodies are ready to be collected by their families.
Somnuk said the navy will not give up search for the missing, but the salvage attempt for the sunken wreckage of the boat "Phoenix" has been postponed on Tuesday due to strong wind and rough seas.
The boat "Phoenix" and another boat "Serenita" were overturned and sunken on July 5. Thai police has charged the captain of the "Phoenix" with negligence causing deaths and charged the captain of the "Serenita" with negligence causing physical and mental damage to others. All the passengers on board the "Serenita" have been saved.
Phuket police chief Major General Theerapol Thipcharoen said on Tuesday that the two captains of the sunken boats have been detained in a prison on Phuket island. And the manager of owning company of the "Serenita" has also been arrested and taken to immigration authority due to his Chinese nationality.
A coordinating team from Thai Ministry of Foreign Affairs, the Department of Religion, Office of National Buddhism Charity Foundation and Tourist Assistance Center has been set up to deal with issues concerning how the families are willing to treat the bodies.
According to Thai government's public relations department, a total of 15 Buddhism temples on Phuket island are ready to provide cremation services and religious rituals for the victims. Fifty-eight Local mosques are also ready to provide Islamic rituals for the dead.