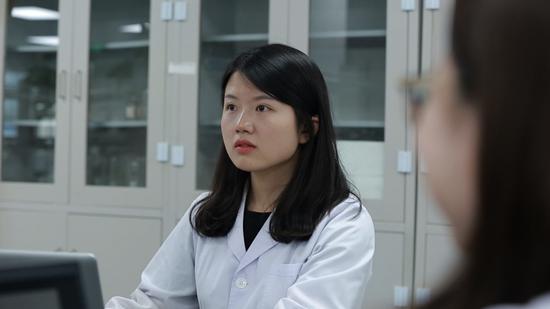 Jiang Mengnan attends a meeting at Jilin University in Changchun, Jilin Province. (Photo/China Daily)
Jiang Mengnan's story is one of triumph over adversity. Deaf almost since birth, she has overcome myriad obstacles to achieve her dream of studying for a PhD at one of China's most prestigious schools.
More importantly, she is helping inspire disabled children in her native Hunan province and beyond to strive for success and defy the low expectations some in society still place on them.
Born into an ethnic Yao family in Yizhang county, Jiang's world has been silent since she was 6 months old, when medicine she was given irreparably damaged her hearing. Yet through perseverance, she excelled at school and university. In the fall she will start studying for a doctorate in pharmacology at Tsinghua University.
"I've received so much help from others over the years. The best way to repay them is for me to do something good for society," she said. "Because of my hearing loss, I couldn't be a doctor. Instead, I chose pharmacy so I can help reduce people's pain and hasten their recovery."
Another crucial way the 26-year-old aims to contribute is by teaching children in similar situation not to be defined by their disability. As often as she can, Jiang returns to her hometown to visit special education schools and meet with students.
"I tell them to do their best to achieve as much as a so-called healthy person," she said. "We don't need to feel inferior because of our flaws. Once they try, they'll find things aren't much more difficult than for other kids. And sometimes they'll even do better."
And it is not only the children's attitudes she hopes to change. She emphasized how support from others was essential on her own journey.
"I'm always grateful for the respect I receive from my parents, teachers and friends," she said. "They never give me special attention for my 'imperfection', which means I've never seen myself as different from anyone else."
When Jiang was a toddler, her parents began showing her how to understand people by reading lips. They also taught her vocalization by putting her hands on their throats, so she could feel the vibration of their vocal cords.
It was a slow and laborious process, but her parents did not give up, and soon Jiang began to speak.
"My mother says she'll never forget the day I said 'Mama' for the first time. I was 16 months old," she said. "I don't have standard pronunciation, I just try my best to say every word clearly so people understand me. And when it comes to new acquaintances, I need a few days to get acquainted with their mouth movements."
When she was old enough, Jiang was enrolled at a standard primary school, not a special school as was common for most disabled children.
She said it was difficult at first. During lessons, teachers would often write on the blackboard with their back to the students, so Jiang missed much of the content. She had to copy down everything on the blackboard and study alone after class to keep up with her classmates.
"My parents never told me the answers directly when I asked questions, which helped me develop an ability to think independently," she said.
After graduating from primary school, Jiang asked to attend No 6 Middle School in Chenzhou, a city about 50 kilometers away. At first her parents refused, "but I told them they couldn't protect me all my life", and they agreed.
In 2011, she achieved an impressive score on the national college entrance exam and was admitted to Jilin University in Changchun, Jilin province. At college, she accumulated several awards and scholarships for her outstanding performance, and volunteered for numerous public benefit activities. She visited special schools during her vacations.
After graduating in 2015, she became a researcher at the university, studying computer-aided drug design.
"After careful consideration, I advised her to lean toward a computer-based research career," said Professor Yang Xiaohong, who was Jiang's tutor. "It has promising development potential and she wouldn't need to carry out lab experiments, which could be dangerous for someone who can't hear."
Jiang eventually finished her master's degree and was accepted as a PhD candidate at Tsinghua University's School of Life Sciences.
"My teachers and classmates have helped me immensely during my studies," she said. "When I started my master's, it was really hard for me to understand new terminologies by just reading lips, so my tutor would write down the words for me.
"I want to continue scientific research in pharmacology and contribute real value to society," she added. "I also hope I can help more people who have the same experiences as me."