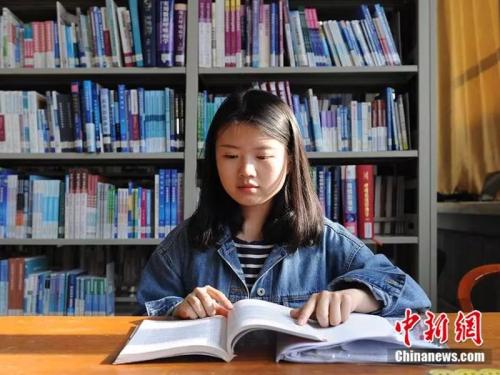 Jiang Mengna (File photo/China News Service)
(ECNS) - A 26-year-old woman named Jiang Mengnan has attracted wide attention after she was admitted as a PhD candidate at Tsinghua University in Beijing.
It has been a long and arduous path to becoming a student at the prestigious university, because most of the time she has been in a silent world, reported the Yangtse Evening News.
Jiang was born in 1992 to a family from the Yao ethnic group in Yizhang County, Hunan Province. Her parents named her Mengnan, which literally means "dream and south," because their wish was that their daughter would enjoy a life of peace.
But at just six months old, her calm and beautiful life was shattered due to severe sensorineural hearing loss caused by ototoxic drugs. The loss of hearing then affected her chance to develop an ability to speak. So Jiang's parents, both middle school teachers, taught her to learn vocalization and lip reading.
Jiang put her hands on the throats of her parents when they talked and felt the vibration of the vocal cords to learn to speak. When reading Pinyin, she carefully looked at the lips of other people's pronunciations to discern the formation of each syllable.
Through lip reading and self-study, she was able to keep up with learning and was accepted by Jilin University School of Pharmacy with a high score of 615 on the college entrance examination. At the university she also won numerous scholarships, and continued her master's degree studies at Jilin University.
Now, she has passed the PhD candidate interview at Tsinghua University School of Life Sciences. In September this year, Jiang will officially enter Tsinghua to begin her doctoral studies.
Along Jiang's academic journey, she has overcome numerous difficulties that healthy people may find impossible to believe. To learn reading lips, she needed to practice more than 1,000 times to learn each pronunciation correctly.
"One hundred people have a hundred kinds of lips, and when it comes to new friends, I always need a few days to get acquainted with their mouth movements," said Jiang.
She was one year behind her peers at elementary school. To make up the gap, Jiang spent a whole summer vacation learning math with her father and English and Chinese with her mother. Through the joint efforts of her family, she succeeded in skipping the 5th grade.
In class, a teacher speaks at a faster rate than conversational speaking and imparts more knowledge. Because lip reading is insufficient to keep up, Jiang has to make extra effort, such as reading extensively.
Jiang chose life sciences because, she said, "I hope I can contribute all my life to the health of human life." During her college days, she was a volunteer at the special education school in her hometown, helping children with visual or hearing impairments.
Confronted with many challenges, Jiang has not complained to anyone, devoting herself to academic progress with diligent effort. Talking about her personality, Jiang said, "I am optimistic, cheerful and intermittently discouraged." Friends also said she was easy-going and accessible.
She said she was very grateful to the teachers who patiently answered her questions, and also very grateful to classmates and friends who had accompanied her on the journey of learning. And, her "parents are like the lighthouse on the road, giving me directions and the courage to continue," she said.
Jiang said she was overwhelmed by so much attention.
"For people who are deaf, like me, I want to tell them that we don't have to feel inferior because of our defects. Although God closed a door for us, it will certainly open a window for us in other places as long as we work hard enough. We can do as much as the healthy, and maybe we can do better!"