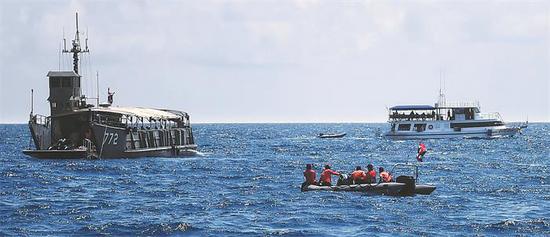 Friends return survivor Huang Junxiong to his ward in Phuket on Sunday. (QIn QING/XINHUA)
Two Chinese teams join in search efforts off Thailand's Phuket island
Two Chinese rescue teams arrived at Thailand's resort island of Phuket on Saturday to help search for the 14 people who remain missing after two shipwrecks on Thursday that killed at least 42 in a storm off the island.
Forty-one of the victims have been confirmed as Chinese nationals, including 13 children, 10 men and 18 women, Xinhua reported.
Two boats with 127 Chinese aboard capsized in a storm off Phuket island late Thursday afternoon. One boat, named Phoenix, was carrying 105 passengers, including 93 Chinese tourists. All 42 on the other boat, the Senereta, were rescued.
Rescuers found one victim in the wreck on Saturday but did not retrieve the body. The nationality of that victim was not yet known.
Authorities also said Thai airlines will offer help to family members of the victims by transporting bodies home. Searches will continue on Monday.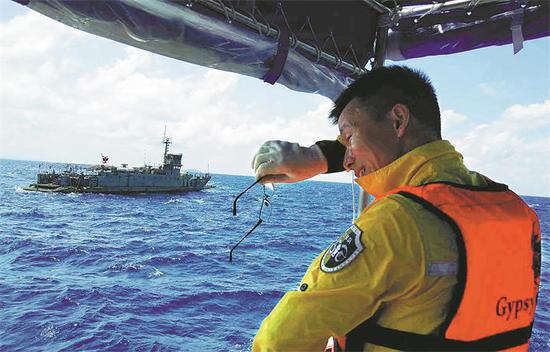 Chinese and Thai crews (clockwise from top) work on search and rescue on Sunday in the waters off Phuket, Thailand, near the site of Thursday's deadly capsizing of two ships. (ZHANG SHIbo / FOR CHINA DAILY)
One Chinese team was dispatched by the Ministry of Transport with 10 members. The other is a civilian team from Zhejiang province, where at least 37 of the 127 Chinese are from. Both teams started to work after arriving on Saturday.
He Jun, head of the civilian team, the Rescue Team of Ram Union, said five of his men arrived on Saturday with two experts from the State Oceanic Administration. Another eight arrived on Sunday and three more will join them on Monday.
The civilian team got the green light to start their work from Thailand's military at noon on Sunday and members who would conduct diving missions all recorded video "testaments" before leaving for the site. "They all volunteered to come," He said via WeChat.
"We came to find the victims and send them back home. I know the danger, but will make every effort to survive," diver Su Linyuan, 33, said in a video shared with media by He.
Su begged his family's forgiveness for taking on the task, and said he hoped his belongings will be handed to his next of kin if he failed to return.
On Sunday afternoon, the Ram Union team first mapped the 20 kilometers around the capsized boat, with a sophisticated sonar device. The equipment will help find debris and possible victims, He said.
Divers who entered the wreck on Saturday described heartbreaking scenes of bodies of children found in the arms of their mothers. China Daily was unable to get in touch with the official Chinese team as of press time.
Thai rescuers' search efforts paid off when they picked up from the water Tan Xinyan, 25, on Friday morning.
"I was lucky enough to be rushed out from a broken window," the woman told Beijing News on Saturday.
Local authorities said on Sunday that the two captains have been charged with negligence resulting in death and physical and mental harm to others.
Chinese Ambassador to Thailand Lyu Jian told reporters on Sunday that the search work for the missing will continue until all are found and Chinese authorities and experts will participate in the investigation into the accident launched by Thai authorities.