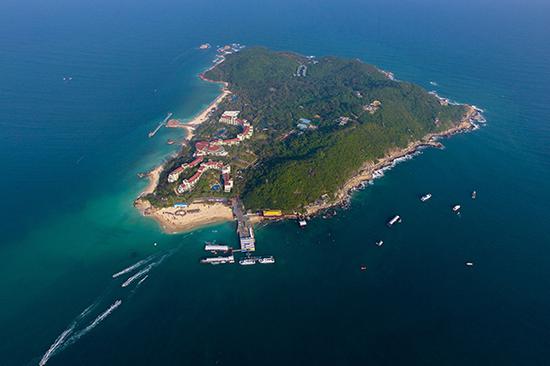 Wuzhizhou Island, off the coast of Sanya, Hainan Province, is now a popular tourist attraction in the tropical paradise. (Photo by Xing Guangli/Xinhua)
Hainan, China's southern island province, updated a regulation on the development of small uninhabited islands on Wednesday, aiming to better protect the islands and standardize approval procedures.
Issued by provincial ocean and fishery authorities, the updated regulation requires any entity or individual wanting to develop uninhabited islands to first submit an application, development plans and project appraisal reports to the ocean authorities for review and approval.
The regulation sets a limit of 15 years for aquaculture uses, 25 years for tourism and entertainment, 30 years for salt and mining industries, 40 years for public welfare purposes and 50 years for ports, shipyards and other construction projects.
It noted that development and utilization of uninhabited islands should be carried out with protection of the islands as a precondition and be in line with requirements of the central and provincial governments to cultivate ocean ecology.
It requires that the heights of buildings and facilities, as well as their distance from the coastline, be reasonable and that monitoring points be included in the development plans to ensure good care of the islands' environment.
Developers were cautioned that wastewater, gas, residue, dust and radioactive substances must not damage the ecosystems of the islands and their surrounding waters. Anyone damaging the environment will be punished, it said.
In April 2011, China released a list of 176 uninhabited islands-six in Hainan-available for development, along with rules for carrying out projects. One of those, Wuzhizhou Island near Yalong Bay in Sanya, has been turned into a 5A tourist zone off the southern tip of tropical Hainan.
"The provincial authorities will issue new directories to guide the orderly and sustainable development and utilization of the uninhabited islands' resources, which are limited," said Chen Tianyi, an official with the Hainan ocean and fishery bureau.
"Increasing numbers of tourists find joy in ocean fishing, and that may be a business option for some island developers," she said, adding that all these islands are located from 1 to 5 kilometers off the coast of the main island.