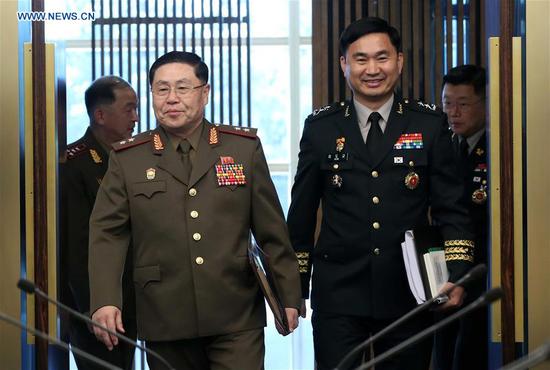 Lt. Gen. An Ik San (L) and Maj. Gen. Kim Do-gyun attend the general-level military talks at the border village of Panmunjom, July 31, 2018. (Photo/Xinhua )
The Democratic People's Republic of Korea (DPRK) and the Republic of Korea (ROK) shared understanding on the trial withdrawal of guard posts from areas near the inter-Korean border, according to ROK joint media pool reports.
The result came after military delegations from the two sides held general-grade talks on Tuesday at the Peace House, an ROK building in the border village of Panmunjom.
The five-member delegations from the ROK and DPRK shared views over the pullout of guard posts inside the demilitarized zone (DMZ), a buffer zone separating the two Koreas, on a trial basis.
The five-member ROK delegation was led by Major Gen. Kim Do-gyun, a senior official of the defense ministry in charge of inter-Korean military affairs. The DPRK side was led by Lt. Gen. An Ik San.
The two Koreas also understood the need to disarm the Joint Security Area (JSA), a jointly controlled area in Panmunjom, and to jointly excavate the remains inside the DMZ of soldiers killed during the 1950-53 Korean War.
The military delegations, however, failed to reach any agreement on the issues and to announce any joint statement.
Maj. Gen. Kim Do-gyun told reporters after the talks that the two sides agreed to continue dialogue on how and when to implement the issues through exchange of letters and working-level contacts.
The general-level military dialogue between the two Koreas came as the second of its kind after the April 27 summit between ROK President Moon Jae-in and top DPRK leader Kim Jong Un. During the summit, Moon and Kim agreed to reduce tensions near the border areas and stop all hostile acts.
The ninth round of inter-Korean general-grade military dialogue kicked off at 10 a.m. local time (0100 GMT). It was the first such talks since June 14 when military delegations from the two sides agreed to completely restore military hotlines along the eastern and western corridors across the inter-Korean border.
Both of them attended last month's talks.
"We will make our best efforts to ensure that we can craft practical measures to reduce military tensions and build trust between the two Koreas through this meeting," said the ROK delegation before departing for Panmunjom.