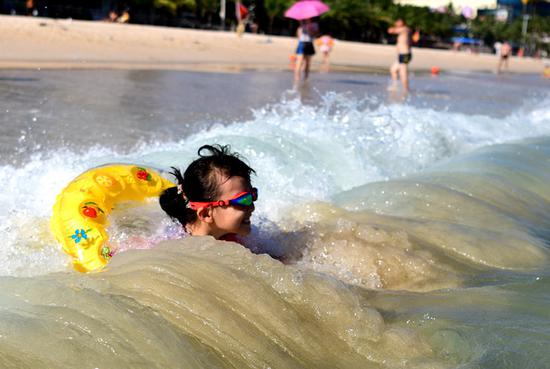 A child enjoys a cool moment in the ocean waves at a scenic zone in Sanya, Hainan Province, on Sunday. Several cities in the province have issued heat alerts recently. (Photo/ China Daily)
Average temperatures nationwide see increases over previous years
The past month was the second-hottest June on record in China. And to make matters worse, the heat wave isn't going away anytime soon, with temperatures expected to flirt with 40 C within the next few days in some regions, weather forecasters warned.
The average temperature in China in June was 20.7 C -0.8 C higher year-on-year, and only slightly behind the hottest June ever recorded in the country. That was in 2005, when the average temperature reached 21 C, said Zhang Zuqiang, spokesman for China Meteorological Administration.
"Many parts of China have experienced temperature rises in June over the previous year, particularly in the Inner Mongolia autonomous region and the central and eastern parts of North China. Increases even reached 2 to 4 C year-on-year in some areas," Zhang said.
Temperatures in most parts of the Beijing-Tianjin-Hebei area topped 35 C from June 20 to 28. Fifty observation stations in the area recorded highs of over 40 C on Wednesday and Thursday. A station in Yuanshi county, Hebei province, recorded a record-high temperature of 43 C, he said.
The Beijing Meteorological Service continued to issue heat alerts for Saturday and Sunday after temperatures reached 39.9 C on Friday.
The heat wave that hit Inner Mongolia and parts of North China was caused by a strong continental high pressure system, which tends to linger, according to the service.
Because of the hot and dry weather conditions, grasslands in Inner Mongolia have been suffering. About 40 percent of the region's grasslands have been damaged, Zhang said.
From July 4 to 9, the central and eastern parts of North China and regions south of the Yangtze River will experience severe heat conditions, with peaks reaching 40 C, he warned.
Because of the heat, ozone will become the top pollutant in many areas of China this month, according to the Ministry of Ecology and Environment. Ozone forms when nitrogen oxides and hydrocarbons - which are emitted from motor vehicles and power plants - are exposed to high temperatures.
Research results have shown that ozone pollution can cause breathing problems and increase the risk of heart attacks.