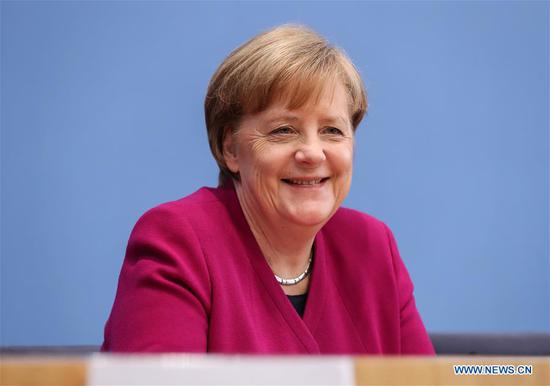 German Chancellor Angela Merkel (Xinhua file photo)
Horst Seehofer on Sunday night resigned from his posts as German interior minister and chairman of the Bavarian Christian Social Union (CSU), amid disputes with Chancellor Angela Merkel over asylum policy, reported Deutsche Presse Agentur.
Seehofer's move could possibly end the long-time political alliance between Merkel-Christian Democratic Union (CDU), making Germany's ruling coalition lose parliamentary majority and throwing the country into deeper political crisis.
Seehofer made the announcement in Munich in a CSU meeting on whether to accept Merkel's European solution on migration policy reached in an EU summit on Friday, according to the report.
Following the news of Seehofer's resignation, the CDU has immediately stressed its support for Merkel's European solution in asylum policy.
Seehofer and Merkel are in a dispute over Germany's asylum policy. Seehofer wants to unilaterally turn back refugees already registered in other European Union (EU) member states, while Merkel opposes it and has been calling for a European solution.
Facing a state election in October, the Bavaria-only CSU hopes to win back votes eroded by the anti-migration Alternative fuer Deutschland and prevent the bordering state from being further impacted by migration.
Following marathon talks at the Brussels summer summit, European leaders eventually reached a compromise on migration in the early hours of Friday.
According to summit conclusions, EU member states will, on a voluntary basis, set up so-called "controlled centers" to host and transfer migrants that landed on EU shores.
It was reported that Merkel had believed that the European solution could satisfy CSU's ultimatum, which was due on Sunday, otherwise Seehofer would bypass Merkel to implement a tougher asylum policy.
After a meeting with Seehofer on Saturday evening, Merkel told the German broadcaster ZDF on Sunday that the two people's meeting had "pretty good results", and she hoped to further work with her political ally CSU.
However, according to das Bild, Seehofer called the meeting on Saturday evening an "ineffective conversation."