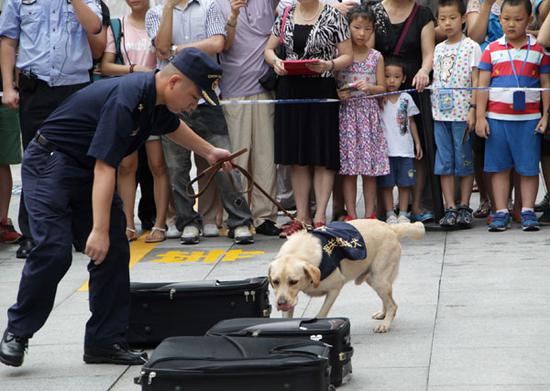 A sniffer dog hunts for contraband during a public open-day event held by the customs office in Guangzhou, Guangdong Province, on June 24, 2018. (Photo/China Daily)
Today marks the thirty-first International Day against Drug Abuse and Illicit Trafficking. What situations are we facing in the fight against drugs worldwide? Let's have a look.
- In December 1987, the UN General Assembly decided to observe June 26 as International Day against Drug Abuse and Illicit Trafficking as an expression of its determination to strengthen action and cooperation to achieve the goal of an international society free of drug abuse.
- More than 170 countries and regions have drug trafficking problems and more than 130 countries and regions use drugs. An estimated quarter of a billion people, or around 5 percent of the global adult population, used drugs at least once in 2015.
- With a background of drug globalization, drug abuse worldwide poses a significant threat to China. The biggest overseas drug sources are the Golden Triangle and Golden Crescent.
- Chinese police cracked 140,000 criminal cases related to drugs in 2016, arrested 168,000 suspected drug users, seized 82.1 tons of various kinds of drugs and destroyed 438 drug labs.
- As of the end of 2017, there are 2,553,000 drug addicts in China, a growth of 1.9 percent year-on-year. Those aged between 18 and 35 make up 55.6 percent while those aged between 36 and 59 make up 43 percent.
- Use of the internet by drug dealers has seen a sharp increase. They publish drug information, order and sell drugs online, transport drugs through mail or express delivery, and pay via online trading platforms, which accelerates the spread of drug trafficking and makes it more difficult to investigate.
- People most vulnerable to drugs are teenagers, jobless and migrant populations and people with little education.
- Sniffer dogs are dogs that are trained to use their senses to detect illegal drugs. A qualified sniffer dog needs to be independent, active, possessive and likes to run. Sniffer dogs eat and live better than ordinary dogs. Ordinary dogs live 15 years on average, while sniffer dogs' life expectancies range from seven to nine.